Back to Top
Chancellor's Professor of Law Dan Burk Awarded Senior Fellowship at the Weizenbaum Institute for Artificial Intelligence Research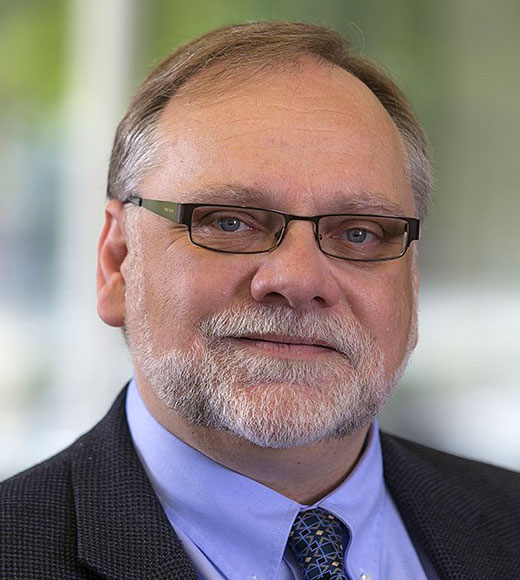 IRVINE, Calif. (Feb. 28, 2019) — Dan Burk, Chancellor's Professor of Law at the University of California, Irvine School of Law, has been awarded a prestigious Senior Fellowship to the Weizenbaum Institute for the Networked Society in Berlin, Germany during fall 2019.
Burk, an internationally prominent authority on legal and social issues related to high technology, will join the study section on Governance and Norm Setting at the Institute, which is dedicated to developing a comprehensive understanding of the social, political, and economic changes arising out of information technologies.
According to Dr. Axel Metzger, a founding Director of the Institute, the Weizenbaum Institute is the premier Internet studies center in Germany, with an ambitious research agenda and an infrastructure covering seven major academic institutions in Berlin and Brandenburg. The institute combines the expertise of leading scholars in computer science, law, and the social sciences.
"One of our goals at the Weizenbaum Institute is to attract the top interdisciplinary researchers from around the world," said Dr. Metzger. "We look forward to our collaboration with Professor Burk on legal issues related to artificial intelligence."
"We are so proud of this recognition of Dan Burk's groundbreaking scholarship examining the socio-legal issues related to artificial intelligence," said L. Song Richardson, Dean and Chancellor's Professor of Law, University of California, Irvine School of Law. "His important work furthers UCI Law's interdisciplinary strengths in the area of information technologies."
Burk's research project on "Codified and Uncodified Standards in Personalized Law" will be hosted in the Research Group on Changes in Norm Setting, which is housed primarily in the Faculty of Law at Berlin's renowned Humboldt University.
Funded by the German Government at €50 million over 5 years, the Weizenbaum institute is named after Joseph Weizenbaum, an eminent German-American computer scientist who was born in Berlin in 1923 and is considered one of the founders of artificial intelligence research.
"Joseph Weizenbaum was a prominent and forceful champion for examining the social dimensions of computerization," said Burk. "I am delighted to have this opportunity to extend the legal and ethical research he so vocally advocated, at the Institute named in his honor."
A founding faculty member of UCI Law, Burk is ranked among the top-cited authors in the U.S. on intellectual property. He holds graduate degrees in both molecular biology and in law, and since 1995 has taught courses on patent law, biotechnology law and related areas of IP.
In addition to this fellowship to the Weizenbaum Institute for the Networked Society, Burk's many accolades include two Fulbright awards: a Fulbright grant in 2017 to the Oxford Internet Institute in Cybersecurity, and a Fulbright grant in 2011 to the Max Planck Institute for Innovation and Competition. Additionally, Prof. Burk received a 2015 Leverhulme visitorship to the London School of Economics and Political Science and the 2015 Vanguard Award for outstanding contributions to intellectual property scholarship from the California Bar Association. 
About UCI Law
Celebrating its 10th anniversary in 2018, the University of California, Irvine School of Law begins its second decade a larger, stronger, more dynamic academic institution than its founders could have ever imagined. UCI Law provides an innovative and comprehensive curriculum, and prioritizes public service and a commitment to diversity within the legal profession. UCI Law students have completed more than 80,000 hours of pro bono work in the past decade. Forty-five percent of UCI Law's graduates are students of color. The collaborative and interdisciplinary community at UCI Law includes extraordinary students, world-renowned faculty, engaged alumni, and enthusiastic supporters. UCI Law continues to rank highly, including: The National Jurist ranks UCI Law No. 4 in the nation for practical training; U.S. News & World Report ranks UCI Law No. 21 in the nation overall out of 194 law schools, and ranks UCI Law's robust clinical program No. 13 in the nation. More information on UCI Law is available here. Please follow us on Twitter and Instagram @ucilaw and SnapChat: ucilaw.
Media Contact:
Colleen Taricani 
Assistant Dean for Communications  
Phone: (949) 824-3063