Back to Top
Chancellor's Professor of Law Dan Burk Receives Fulbright U.S. Scholar Award in Cybersecurity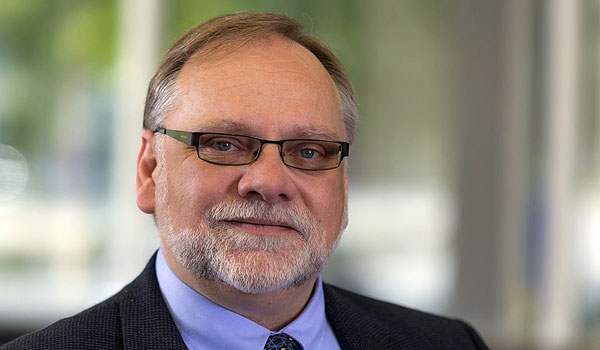 IRVINE, Calif. — Dan Burk, Chancellor's Professor of Law at the University of California, Irvine School of Law, has been awarded a prestigious Fulbright U.S. Scholar Award in Cybersecurity to the Oxford Internet Institute in the United Kingdom during fall 2017, according to the U.S. Department of State and the J. William Fulbright Foreign Scholarship Board.
Burk, an internationally prominent authority on legal and social issues related to high technology, will pursue research on "Statutory Protocols for Access to Secured Digital Content," in which he will examine the U.K.'s administrative procedures for consumer access to encrypted information.
"The Oxford Internet Institute are pleased to welcome Professor Burk, renowned authority on cyberlaw, for a visiting fellowship. Professor Burk's innovative and groundbreaking work provides a crucial contribution to our understanding of key challenges posed by the information age," said Dr. Luciano Floridi, immediate past Director of Research, Oxford Internet Institute.
This is Prof. Burk's second Fulbright award. His previous grant in 2011 was to the Max Planck Institute for Innovation and Competition to research German and European Union comparative biotechnology patent processes. While the number of Fulbright awards is not limited, subsequent applicants must demonstrate a "compelling justification for a repeat Fulbright grant" in terms of research outcomes, international associations, and cumulative results.
A founding faculty member of UCI Law, Burk is ranked among the top-cited authors in the U.S. on intellectual property. He holds graduate degrees in both molecular biology and in law, and since 1995 has taught courses on patent law, biotechnology law and related areas of IP. In addition to the two Fulbright grants, his many awards include a 2015 Leverhulme visitorship to the London School of Economics and Political Science and the 2015 Vanguard Award for outstanding contributions to intellectual property scholarship from the California Bar Association.
"I am enormously grateful to UCI Law and the Fulbright program for this opportunity to collaborate with some of the world's top Internet research experts," said Dan Burk.
Prof. Burk is one of more than 800 U.S. citizens who will teach, conduct research, and/or provide expertise abroad for the 2017-18 academic year through the Fulbright U.S. Scholar Program. Recipients of Fulbright awards are selected on the basis of academic and professional achievement as well as record of service and demonstrated leadership in their respective fields.
The Fulbright Program is the flagship international educational exchange program sponsored by the U.S. government and is funded through an annual appropriation made by the U.S. Congress to the U.S. Department of State. Participating governments and host institutions, corporations, and foundations around the world also provide direct and indirect support to the Program, which operates in over 160 countries worldwide.
Since its establishment in 1946 under legislation introduced by the late U.S. Senator J. William Fulbright of Arkansas, the Fulbright Program has given more than 370,000 students, scholars, teachers, artists, and scientists the opportunity to study, teach and conduct research, exchange ideas, and contribute to finding solutions to shared international concerns. Fulbright alumni have achieved distinction in many fields, including 57 who have been awarded the Nobel Prize, 82 who have received Pulitzer Prizes, and 37 who have served as a head of state or government.