Back to Top
Klein & Wilson Sponsors UCI Law Mock Trial Competition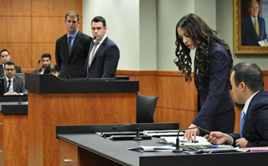 IRVINE, Calif. (August 30, 2022) — The University of California, Irvine School of Law (UCI Law) is pleased to announce that business trial law firm, Klein & Wilson, has donated funds to support the 2022-2023 UCI Law mock trial competition program. Support from Klein & Wilson will engage new attorney volunteers as coaches, including members of the prestigious American College of Trial Lawyers; reward competition winners with a scholarship; and enable selected students to participate in national competitions. As part of UCI Law's broad and deep practical-skills training, mock trial provides an opportunity for students to develop and showcase their oral advocacy skills and learn real trial skills. Launched in 2011, participants serve as trial-level attorneys in a criminal or civil law hypothetical case after attending in-depth training sessions teaching opening and closing statements, direct and cross-examinations, and objections.
"This sponsorship reflects the strong support from Orange County's legal community for UCI Law and its exceptional experiential education," said Dean Austen Parrish. "We are deeply appreciative of Klein & Wilson's investment in UCI Law's Mock Trial program, enhancing the training and experience of participating students, allowing programmatic growth and, most importantly, helping to prepare future generations of trial attorneys."
"Klein & Wilson is proud to support the growth and maturation of the UCI Law Mock Trial program both in its traditional campus-based (internal) competition, and competing on a national level," stated Gerald Klein. "We look forward to working with UCI Law in creating one of the top mock trial teams in the country."
"We are thrilled with this new partnership, which will allow our students to work intensively with talented trial lawyers in the Orange County area and gain valuable simulated trial practice," said Professor Rachel Croskery-Roberts. "Over a dozen attorneys who collectively possess hundreds of years of trial experience will be working alongside our student-run mock trial board to help develop a premier mock trial program at UCI Law."
At UCI Law, students get hands-on legal experience from the beginning, and our curriculum emphasizes practical training to prepare you to hit the ground running in your career. Our emphasis on legal research, writing, and oral advocacy is reflected in U.S. News & World Report ranking UCI Law No. 10 nationally for legal writing, and preLaw Magazine's recognition of UCI Law as the No. 4 top law school in the country for practical training. As part of the first-year Lawyering Skills course, students conduct interviews for real matters. UCI Law seeks to do the best job in the country of training students for the practice of law in any modern setting. Students take six credits of Lawyering Skills across two courses in the first year. In those courses, students gain a critical foundation in skills all attorneys use, including both predictive and persuasive legal writing, legal research, legal analysis, problem-solving and oral advocacy. The Lawyering Skills courses also introduce students to client counseling, client interviewing, negotiation, contract drafting and fact investigation. Students then have the opportunity to take a range of upper-level courses – and participate in co-curricular opportunities like the mock trial competition – to further develop these valuable skills.
About Klein & Wilson
Klein & Wilson is a small, highly rated and successful trial firm in Newport Beach, California. Firm partners, each with over 20 years of trial practice, have extensive experience in business and commercial litigation, including contract disputes, partnership disputes, shareholder disputes, and LLC disputes; legal malpractice; real estate litigation, including lease disputes, real property disputes, and landlord-tenant disputes; and intellectual property disputes, including unfair competition and trade secrets, trademark infringement, and copyright infringement
About the University of California, Irvine School of Law
The University of California, Irvine School of Law is a top, visionary law school that provides an innovative and comprehensive curriculum, prioritizes public service, and demonstrates a commitment to diversity within the legal profession. UCI Law students have completed more than 135,000 hours of pro bono work since 2009. Forty-eight percent of UCI Law's J.D. graduates are people of color. At UCI Law, we are driven to improve our local, national, and global communities by grappling with important issues as scholars, as practitioners, and as teachers who are preparing the next generation of leaders. The collaborative and interdisciplinary community at UCI Law includes extraordinary students, world-renowned faculty, dedicated staff, engaged alumni and enthusiastic supporters. More information on UCI Law is available here. Please follow us on Twitter @UCILaw and Facebook @UCIrvineLaw.