Back to Top
UCI Law Professor Swethaa Ballakrishnen Awarded Over $500,000 NSF Grant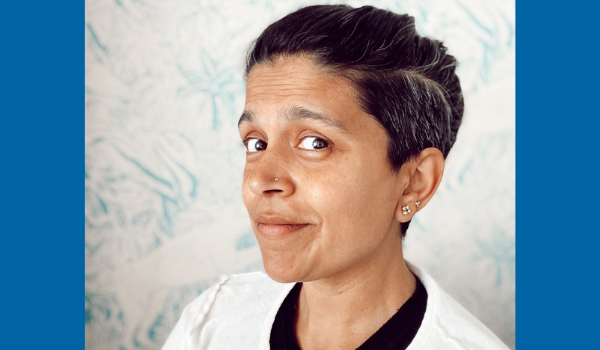 Grant will fund project to research diversity and networking in law school
IRVINE, Calif. (March 10, 2022) — Swethaa S. Ballakrishnen, Assistant Professor of Law and Co-Director, Center for Empirical Research on the Legal Profession at University of California, Irvine School of Law is the lead Principal Investigator of a team awarded a $511,230 National Science Foundation (NSF) grant to fund a project titled: "Diversity and Networking in Law School: Are Law Students from Diverse Backgrounds Disadvantaged?"  Ballakrishnen is the first full-time UCI Law faculty member to receive an NSF grant.
Ballakrishnen is joined on the project by co-principal investigators Professor Anthony Paik of University of Massachusetts, Amherst, Carole Silver, Professor of Global Law & Practice at Northwestern University Pritzker School of Law and Steven Boutcher, Executive Officer of the Law and Society Association and Senior Research Fellow at the Institute for Social Science Research at University of Massachusetts, Amherst.
Networking is considered a key component of the law school experience and will lead to success in law school and career development. However, students from diverse backgrounds – race, gender, sexual orientation and class – may not have the same level of access to "resource-rich" social networks in law school. These "network inequalities" may shape the value of legal education across different groups of students and impact student experiences and outcomes.

This study will examine the ways networking inequality affects the value of legal education and whether these inequalities can account for differential experiences and outcomes across the diverse categories of students. The focus of the project is to study inequality in law schools and early legal careers. These findings may provide opportunities to mitigate existing inequities and facilitate more equal outcomes within the legal profession.

About Swethaa Ballakrishnen
Swethaa S. Ballakrishnen is a socio-legal scholar whose research examines the intersections between law, globalization and stratification from a critical feminist perspective. Particularly, across a range of sites and different levels of analysis, their work interrogates how law and legal institutions create, continue and counter different kinds of socio-economic inequalities. Together, these motivations have resulted in three main areas of empirical inquiry. The first is a set of interrelated projects that analyze gender inequality and representation through the lens of comparative legal institutions. The second concentrates on inclusivity in global legal education and the resultant implications for organizational diversity within the legal profession. A third emerging field of interest focuses on transnational migration and its implications for intergenerational mobility, international human rights and transnational family law.

Scholarship from these projects has appeared in, among other journals, Law and Society Review, Law and Social Inquiry, Fordham Law Review, International Journal of the Legal Profession, and the Journal of Professions and Organization. Their first book, Accidental Feminism (Princeton University Press: 2021), unpacks the case of unintentional gender parity among India's elite legal professionals; a second book Invisible Institutions (Hart Publishing: 2021, ed. with Sara Dezalay) brings together cross-subjective perspectives on legal globalization; and a third book Gender Regimes and the Politics of Privacy (Zubaan Books, with Kalpana Kannabiran) investigates the gendered legacies of India's privacy jurisprudence.

Alongside this scholarly output, Professor Ballakrishnen's research has been featured in a range of professional and popular media including Harvard Business Review, Stanford News Report, Above the Law, Bloomberg Law, Quartz, Law School Transparency Radio, The Practice and WPR. They have presented research at over 50 conferences worldwide, delivered over 50 invited talks in a range of academic and professional settings, and their legal opinions on family and financial laws have been cited by the Probate and Family Court of Massachusetts and the U.S. Court of Appeals for the Second Circuit respectively.

Professor Ballakrishnen is committed to building and serving socio-legal communities that focus on critical questions concerning legal education and the profession. At UCI, they co-run the Center for Empirical Research on the Legal Profession, the Socio-Legal Studies Workshop, and the Law, Society, and Culture Emphasis. In addition, beyond UCI, they are an affiliated faculty at the Harvard Law School Center on the Legal Profession, on the board of trustees of the Law and Society Association (LSA) and the ISA Research Committee on Sociology of Law, a co-founder of the LSA Collaborative Research Network on Legal Education, and on the Executive Committee of the AALS Section on Empirical Study of Legal Education and the Legal Profession. In 2017-18, they were the AccessLex Visiting Scholar on Legal Education at the American Bar Foundation. In 2020, Professor Ballakrishnen was named a AALS Teacher of the Year.

For over a decade before entering academia full-time, Professor Ballakrishnen was a legal intern to Hon'ble Justice Arijit Pasayat of the Supreme Court of India, an international banking associate in Mumbai, and an external consultant for cross-border litigation financing in New York City.
About the University of California, Irvine School of Law
The University of California, Irvine School of Law is a visionary law school that provides an innovative and comprehensive curriculum, prioritizes public service, and demonstrates a commitment to diversity within the legal profession. UCI Law students have completed more than 125,000 hours of pro bono work since 2009. Forty-seven percent of UCI Law's J.D. graduates are people of color. At UCI Law, we are driven to improve our local, national, and global communities by grappling with important issues as scholars, as practitioners, and as teachers who are preparing the next generation of leaders. The collaborative and interdisciplinary community at UCI Law includes extraordinary students, world-renowned faculty, dedicated staff, engaged alumni and enthusiastic supporters. More information on UCI Law is available here. Please follow us on Twitter @UCILaw and Facebook @UCIrvineLaw.
Media Contact:
Stephanie Wilner
Communications | PR Manager
swilner@law.uci.edu