Back to Top
Two UCI Law Faculty Members Named 2020 AALS Teachers of the Year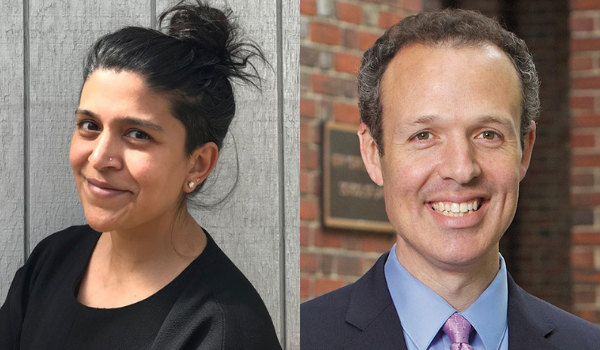 IRVINE, Calif. (Jan. 8, 2021) — Swethaa Ballakrishnen, Assistant Professor of Law at the University of California, Irvine School of Law (UCI Law), and Joshua Blank, UCI Law Professor of Law and Faculty Director of Strategic Initiatives, have been named 2020 Teachers of the Year by The Association of American Law Schools (AALS). Nominated by their peers for their excellence in teaching and contributions to their law schools, AALS Teachers of the Year are recognized as exceptional faculty members.
"This is a wonderful way to start the year, and I'm humbled," said Prof. Ballakrishnen. "But, the real honor is, truly, in being able to work alongside staff and faculty who take the vision of an inseparable research, service, and teaching paradigm so seriously; and to serve this community of students who are so thoughtful in their commitments to diversity and social justice. I never forget what a privilege this is."
"I am honored to receive this wonderful recognition and I am grateful for the opportunity to teach, learn, and collaborate with my incredible students and colleagues at UCI Law and the UCI Law Graduate Tax Program," said Prof. Blank.
Over the summer, Professors Ballakrishnen and Blank participated in a summer workshop that provided critical instruction and structure for the redevelopment of UCI Law faculty members' courses based on research-backed best practices – including pertaining to equity and inclusion – for online instruction. In addition to mastering new technology, they incorporated critical theory and reflection in their online teaching plans.
As a member of UCI Law's Teaching and Learning Committee, in 2020, Prof. Blank co-organized summer faculty workshops on "technology for online teaching," "designing online courses," and "equity and inclusion in online courses." In addition, Prof. Blank revamped his own tax law courses by recording weekly video lessons for students and designing interactive exercises that he and his students completed together during synchronous online sessions.
Professor Ballakrishnen teaches a 1L class on the Legal Profession (which is a pedagogic innovation unique to UCI Law), as well as upper-level classes that explore the relationships of law to gender, queer theory, inequality, and identity. They also co-run an interdepartmental Socio Legal Studies Workshop and are part of the steering committee for the campus-wide Law, Society, and Culture Emphasis. You can read more about their teaching philosophy and interests here.
"Professors Ballakrishnen and Blank are among our best teachers, which is saying something," said Stephen Lee, Associate Dean for Faculty Research and Development and Professor of Law at UCI Law. "They are smart, dedicated, and they teach with their whole hearts. I can't imagine two more deserving people for this honor."
More about AALS
Founded in 1900, AALS is a nonprofit association that consists of nearly 180 law schools. Its members include most of the nation's law students and produce the majority of the country's lawyers and judges, as well as many of its lawmakers. The mission of AALS is to uphold and advance excellence in legal education. To achieve this, AALS promotes the core values of excellence in teaching and scholarship, academic freedom, and diversity, while seeking to improve the legal profession, to foster justice, and to serve our many communities–local, national and international.
More about Swethaa S. Ballakrishnen
Prof. Ballakrishnen is a socio-legal scholar whose research examines the intersections between law, globalization and stratification from a critical feminist perspective. Particularly, across a range of sites and different levels of analysis, their work interrogates how law and legal institutions create, continue, and counter different kinds of socio-economic inequalities. Ballakrishnen's research has appeared in, among other journals, Law and Society Review, Law and Social Inquiry, International Journal of the Legal Profession, and the Canadian Review of Sociology. Their first book Accidental Feminism, which traces the unlikely success of women in India's elite law firms, is out on Jan. 12 with Princeton University Press, and their second book Invisible Institutionalisms, which offers collaborative refractions on the state of legal globalization is forthcoming with Hart Publishing in February 2021. You can read more about their research here.
Prof. Ballakrishnen is an affiliated faculty at the Harvard Law School Center on the Legal Profession, on the board of trustees of the Law and Society Association (LSA), a co-founder of the LSA Collaborative Research Network on Legal Education, and a board member of the ISA Research Committee on Sociology of Law. In 2017-18, they were the AccessLex Visiting Scholar on Legal Education at the American Bar Foundation and at UCI Law now, co-director of the Center for Empirical Research on the Legal Profession. For over a decade before entering academia full-time, Professor Ballakrishnen was a legal intern to Hon'ble Justice Arijit Pasayat of the Supreme Court of India, an international banking associate in Mumbai, and an external consultant for cross-border litigation financing in New York City.
More about Joshua Blank
Prof. Blank joined UCI Law in July 2018 as professor of law. In addition, as faculty director of strategic initiatives, he oversees UCI Law in NYC, an innovative program that supports students who are interested in exploring career paths in New York. Previously, he was a member of the full-time faculty of NYU School of Law, where he served as professor of tax law, vice dean for technology-enhanced education and faculty director of its graduate tax program.
Blank's scholarship focuses on tax administration and compliance, taxpayer privacy, and taxation of business entities. At UCI Law, he teaches several tax law courses, including Federal Income Tax, Corporate Tax and Tax Practice & Procedure.  His recent publications have appeared in Cornell Law Review, Emory Law Journal, New York University Law Review, Southern California Law Review, Tax Law Review, University of Pennsylvania Law Review, and UCLA Law Review, among others. He is a frequent contributor to Bloomberg, CNN, Fortune, the New York Times, and the Wall Street Journal, among others.
Blank received the 2017 Legal Teaching Award, presented by the NYU School of Law Alumni Association, and the Podell Distinguished Teaching Award from NYU School of Law in 2014. In 2018, he delivered a keynote address on tax transparency and publicity at the Annual Congress of the European Association of Tax Law Professors in Zurich, Switzerland. In 2014, he served as one of two National Reporters for the United States for the Annual Congress of the European Association of Tax Law Professors in Istanbul, Turkey.
About the University of California, Irvine School of Law
The University of California, Irvine School of Law is a visionary law school that provides an innovative and comprehensive curriculum, prioritizes public service, and demonstrates a commitment to diversity within the legal profession. UCI Law students have completed more than 100,000 hours of pro bono work in the past decade. Forty-eight percent of UCI Law's graduates are students of color. At UCI Law, we are driven to improve our local, national, and global communities by grappling with important issues as scholars, as practitioners, and as teachers who are preparing the next generation of leaders. The collaborative and interdisciplinary community at UCI Law includes extraordinary students, world-renowned faculty, dedicated staff, engaged alumni, and enthusiastic supporters. More information on UCI Law is available here. Please follow us on Twitter and Instagram @ucilaw.
Media Contact:
Mojgan Sherkat
Media Relations Specialist
msherkat@law.uci.edu 
949-824-7937