Back to Top
NYT Magazine Cover Story Spotlights Crucial Role of UCI Law Report in Helping to Avoid Election Meltdown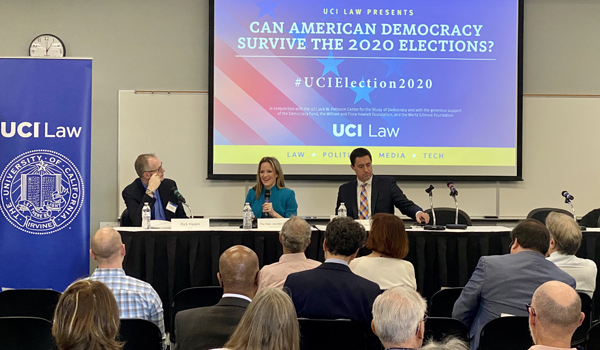 IRVINE, Calif. (Nov. 17, 2020) — This past Sunday's New York Times cover story by Emily Bazelon on conducting the 2020 election during the pandemic highlighted the crucial role the Fair Elections During a Crisis Report -- led by Richard L. Hasen (Rick Hasen) Chancellor's Professor of Law and Political Science at UCI Law -- played in helping to avoid an election meltdown. The April report followed a conference convened by Professor Hasen in February, "Can American Democracy Survive the 2020 Elections?," and made 14 key recommendations in the area of law, politics, media, and technology to assure a safe and effective election during the pandemic.
"Our 'Fair Elections During a Crisis' report explained the need for safe and effective voting by mail and in person during the pandemic, and how delayed reporting of election results could adversely affect public confidence in the election," Prof. Hasen said. "I am grateful that with the generous financial support from the Democracy Fund, the Hewlett Foundation, and the Mertz Gilmore Foundation, we were able to connect with key stakeholders to promote effective strategies for a successful election. We were honored that our committee's work was featured in this moving photo essay alongside the real heroes in our election: the election administrators, postal workers, and volunteers who pulled off a miraculous feat in November."
"The report was prescient, crucial and timely," said L. Song Richardson, the Dean and Chancellor's Professor of Law at UCI Law. "I am so proud of the important work Rick and his committee did to protect the integrity of our democracy."
The report, Fair Elections During a Crisis: Urgent Recommendations in Law, Media, Politics, and Tech to Advance the Legitimacy of, and the Public's Confidence in, the November 2020 U.S. Elections was released earlier this year. Recognizing the need for multifaceted solutions to the issue of the legitimacy and acceptance of fair election results in the 2020 U.S. Presidential Election, Prof. Hasen led an ad hoc committee made up of a diverse, bipartisan group of experts to tackle this issue from an interdisciplinary perspective.
The project was organized by the University of California, Irvine, School of Law, in conjunction with the University of California, Irvine's Jack W. Peltason Center for the Study of Democracy.
More about Rick Hasen
A nationally recognized election law and politics expert, Rick Hasen was recently named an Election Law Analyst by CNN. He offers analysis in CNN stories and discusses all aspects of the November 2020 U.S. Presidential Election, while continuing on faculty at UCI Law. Earlier in the year, Prof. Hasen released his latest book "Election Meltdown: Dirty Tricks, Distrust, and the Threat to American Democracy," (Yale University Press) which uses stories to illustrate four reasons Americans show increasing mistrust in voting and American elections.
In addition, he has co-authored leading casebooks in election law and remedies. In 2013 Hasen was named one of the 100 most influential lawyers in America by the National Law Journal, and his previous books include "The Voting Wars," "Plutocrats United," and "The Justice of Contradictions." His op-eds and commentaries have appeared in many publications, including The New York Times, The Wall Street Journal, The Washington Post, Politico, and Slate. Hasen also writes for the often-quoted Election Law Blog. He has appeared on numerous newscasts and television shows, as well as podcasts.
Professor Hasen holds a B.A. degree (with highest honors) from UC Berkeley, and a J.D., M.A., and Ph.D. (Political Science) from UCLA. After law school, Hasen clerked for the Honorable David R. Thompson of the United States Court of Appeals for the Ninth Circuit, and then worked as a civil appellate lawyer at the Encino firm Horvitz and Levy. 
About the University of California, Irvine School of Law
The University of California, Irvine School of Law is a visionary law school that provides an innovative and comprehensive curriculum, prioritizes public service, and demonstrates a commitment to diversity within the legal profession. UCI Law students have completed more than 100,000 hours of pro bono work in the past decade. Forty-eight percent of UCI Law's graduates are students of color. At UCI Law, we are driven to improve our local, national, and global communities by grappling with important issues as scholars, as practitioners, and as teachers who are preparing the next generation of leaders. The collaborative and interdisciplinary community at UCI Law includes extraordinary students, world-renowned faculty, dedicated staff, engaged alumni, and enthusiastic supporters. More information on UCI Law is available here. Please follow us on Twitter and Instagram @ucilaw.
Media Contact:
Mojgan Sherkat
msherkat@law.uci.edu 
949-824-7937