Back to Top
Librarian of Congress Restores Fair Use Rights for Filmmakers and Authors Represented by UCI Law Clinic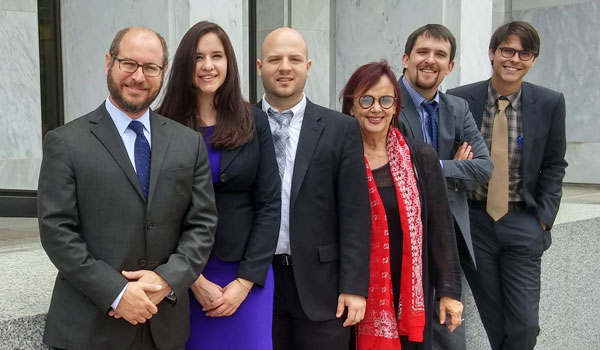 IRVINE, Calif., October 30, 2015 – The Librarian of Congress has announced two exemptions to the Digital Millennium Copyright Act (DMCA) that the UCI Intellectual Property, Arts, and Technology (IPAT) Clinic sought on behalf of a large coalition of filmmakers and authors, including the International Documentary Association, Kartemquin Films, Authors Alliance, the American Association of University Professors, and Film Independent. For more than a year, students in the IPAT Clinic advocated for the exemptions in the United States Copyright Office, seeking to preserve the ability of filmmakers and authors to make fair use in the digital age. 
The new rules allow documentary filmmakers and authors offering film analysis to access encrypted content from DVDs, Blu-ray discs and digitally transmitted video in order to criticize or comment on that content in their works. The previous version of the rule did not permit these creators to access Blu-ray.
Filmmakers and authors have long held the right to make fair use of copyrighted material for uses like criticism and commentary. But the DMCA, enacted in 1998, made it illegal — and in some cases, a crime — to access copyrighted content by breaking technological protection measures like encryption. The result is that the DMCA inadvertently chills fair use and other lawful activities. To address this danger, Congress directed the Librarian of Congress to issue exemptions every three years, after a rulemaking conducted by the Register of Copyrights. 
The Librarian announcement this week was the final step in a yearlong process that began with petitions filed with the U.S. Copyright Office and included lengthy comments, reply comments, hearings in Los Angeles and Washington, D.C., and correspondence with the Copyright Office. Students from the IPAT Clinic drafted the comments, participated in the hearings and spearheaded a massive fact-gathering effort involving hundreds of filmmakers and authors.
"Authors and filmmakers alike need to access copyrighted content in order to make fair use, but the DMCA had been unfairly restricting their ability to do so," said Jack Lerner, director of the UCI Intellectual Property, Arts, and Technology Clinic. "This new exemption goes a long way toward rectifying the problem, because it allows our clients to access Blu-ray in addition to DVD and other formats. We are glad that the Librarian of Congress recognized that in today's technological environment, creators need to access high-definition material in order to make fair use."
NEW RIGHTS FOR DOCUMENTARY FILMMAKERS
Working with co-counsel Donaldson & Callif LLP, the IPAT Clinic sought an exemption for both documentary filmmakers and narrative filmmakers. The previous exemption only allowed documentary filmmakers to access material from DVD and online content, and did not include narrative filmmakers. The new rule allows documentary filmmakers to access Blu-ray in addition to the other formats.
"The new ruling protects and enhances important fair use rights for documentary filmmakers, improving their access to the high-definition source material that modern broadcasters and distributors demand," said UCI Law student Aaron Benmark. "Working with a national coalition of filmmakers to protect and expand fair use rights for filmmakers has been a great pleasure and honor. The tireless efforts of fair use advocates at Kartemquin Films, the International Documentary Association, Film Independent, NAMAC and many other organizations was invaluable to securing the protections for filmmakers that we achieved this week."
The legal team representing the filmmaker coalition praised the new rule, and also expressed regret that it does not include narrative filmmakers, despite a robust record of evidence that narrative filmmakers make fair use and are being harmed by the DMCA.
"Today the Librarian took an important measure to protect fair use and freedom of expression," said Christopher Perez of Donaldson & Callif LLP, who was co-counsel to the clinic on the filmmakers' petition. "We are confident that in future proceedings, the Librarian will recognize that all filmmakers, not just documentarians, make fair use." 
Related news: Prof. Jack Lerner and IPAT Clinic winners of  CLAY Award for work on behalf of filmmakers, authors
AUTHORS MAKING FAIR USE AT TECHNOLOGY'S CUTTING EDGE
The new rule allows authors to access Blu-ray, DVD and digitally transmitted video in order to make criticism and commentary in the burgeoning new media of multimedia e-books. "We are excited that authors can now access Blu-ray for use in their e-books, as the existing technology demands high-definition content," said UCI Law student Lauren A. Wong, who worked on the comment proposing the exemption. "We hope that in the next triennial proceedings, the Copyright Office will expand the scope of this exemption beyond film analysis, because authors make fair use in countless different contexts, and many of them are seeking to do so in e-books." 
UCI Law student Aleksander A. Danielyan added: "We are celebrating that the Librarian has recognized the fast pace of technological change in relation to e-book and media storage formats, and has taken an important step to enable creators to use these formats."
Professor Pamela Samuelson, founder and director of the Alliance, said, "The Authors Alliance commends the UCI clinic for its excellent submissions to the Copyright Office in support of our request for an exception to the anti-circumvention rules. The clinic made a powerful case for extending fair use rights to Blu-ray and online materials. Although we are disappointed that the multimedia e-book exception is not broader, it's a step in the right direction."
Bobette Buster is an author and filmmaker who testified in support of the exemption at hearings in Washington, D.C. "Working with the students enrolled in the UCI IPAT Clinic was a fantastic experience for me," she said. "I was so impressed with how knowledgeable the students were, and I learned a tremendous amount. I felt very well informed, and in excellent hands."
The Samuelson-Glushko Technology Law & Policy Clinic at the University of Colorado served as co-counsel on the e-book authors' petition.
About UC Irvine School of Law
UCI Law is a visionary law school focused on training talented and passionate lawyers and driven by professional excellence, intellectual rigor, and a commitment to enrich our communities through public service. UCI Law is a collegial environment, and our faculty comprises accomplished, nationally ranked thought leaders from around the country with a broad range of expertise. More about the Law School is available at law.uci.edu.
About the UCI Intellectual Property, Arts, and Technology Clinic
Law students in the Intellectual Property, Arts, and Technology Clinic work to support innovation and creative expression in the digital age. In the Clinic, students advise and represent clients on a range of matters dealing with copyright, patent, privacy and media law, among other areas. Through this work, they gain important legal skills while examining the role of the public interest in intellectual property and technology law.  More about the Clinic is available at law.uci.edu/ipat.
UC Irvine School of Law Contacts
Jack Lerner
Assistant Clinical Professor of Law
Director, Intellectual Property, Arts, and Technology Clinic
(949) 824-7684 office
(415) 577-2455 cell
jlerner@law.uci.edu
Colleen Taricani
Assistant Dean for Communications
(949) 824-3063
ctaricani@law.uci.edu