Back to Top
UCI Law Intellectual Property, Arts, and Technology Clinic and Prof. Jack Lerner win CLAY Award for work on behalf of filmmakers, authors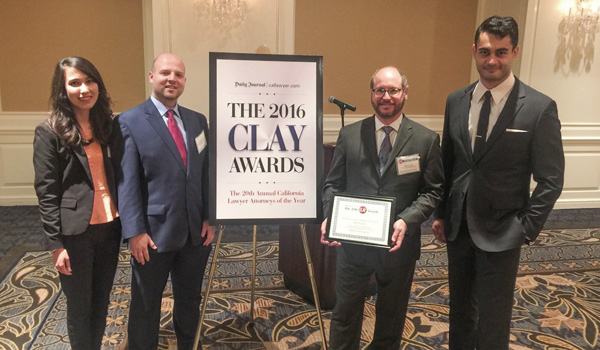 SAN FRANCISCO, Calif., March 17, 2016 – The Daily Journal and the California Lawyer honored UCI Law Prof. Jack Lerner and students from the UCI Law Intellectual Property, Arts, and Technology Clinic (IPAT) with a 2016 "California Lawyer of the Year" (CLAY) award. The CLAY award recognizes their work achieving exemptions to the copyright laws for filmmakers and authors that preserve their right to fair use and freedom of expression in the digital age. The new rules issued by the Librarian of Congress allow documentary filmmakers, as well as authors offering film analysis, to access encrypted content from DVDs, Blu-ray discs and digitally transmitted video in order to criticize or comment on that content in their works.
This was an extensive, year-long undertaking led by the IPAT Clinic on behalf of large coalitions led by IPAT Clinic clients International Documentary Association, Kartemquin Films, and Authors Alliance. More than a dozen IPAT Clinic students worked on the matter in addition to co-counsel Michael Donaldson and Christopher Perez at Donaldson & Callif LLP on the filmmakers' exemption, and a technology law clinic led by Professor Blake Reid at the University of Colorado on the authors' exemption, who were also honored.
Congratulations to Prof. Jack Lerner and UCI Law IPAT students and alumni: Aaron Benmark ('16), Sasha Danielyan ('16), Matt Germer ('15), Aaron Johnson ('17), Mike Lee ('15), Ranika Morales ('15), Alex Podobas ('17), Kyle Reynolds ('15), Rahul Sajnani ('17), Alex Selman ('15), RJ Szuba ('17), and Lauren Wong ('16).  
More about the exemptions is available here.
Read the Daily Journal/California Lawyer article about the CLAY award here.
About UC Irvine School of Law
UCI Law is a visionary law school focused on training talented and passionate lawyers and driven by professional excellence, intellectual rigor, and a commitment to enrich our communities through public service. UCI Law is a collegial environment, and our faculty comprises accomplished, nationally ranked thought leaders from around the country with a broad range of expertise. More about the Law School is available at law.uci.edu.
About the UCI Intellectual Property, Arts, and Technology Clinic
Law students in the Intellectual Property, Arts, and Technology Clinic work to support innovation and creative expression in the digital age. In the Clinic, students advise and represent clients on a range of matters dealing with copyright, patent, privacy and media law, among other areas. Through this work, they gain important legal skills while examining the role of the public interest in intellectual property and technology law. More about the Clinic is available here.
UC Irvine School of Law Contacts
Jack Lerner
Assistant Clinical Professor of Law
Director, Intellectual Property, Arts, and Technology Clinic
(949) 824-7684 office
(415) 577-2455 cell
jlerner@law.uci.edu
Colleen Taricani
Assistant Dean for Communications
(949) 824-3063
ctaricani@law.uci.edu