Back to Top
Prof. Summer Kim Receives Trailblazer Award from Orange County Korean American Bar Association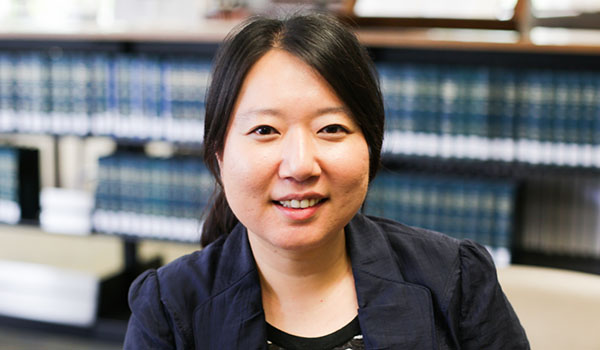 IRVINE, Calif., October 27, 2016 — University of California, Irvine School of Law is pleased to announce that Assistant Professor of Law Sung Eun (Summer) Kim received the Trailblazer Award from the Orange County Korean American Bar Association (OC KABA) at its 11th Annual Installation Dinner on October 20, 2016. Every year, the OC KABA honors those in the legal community who have paved the way for Asian Americans (and especially Korean Americans) and created opportunities that generations before them did not have. In addition to Prof. Kim, California State Treasurer John Chiang was honored.
"Professor Kim was selected for the Community Trailblazer Award because she is a strong, smart, compassionate Korean woman who is a wonderful educator and legal scholar, and who is passionate about helping her students and the Korean American legal community in Orange County," said Caroline Hahn, OC KABA President. "We look forward to partnering with the Korea Law Center in many of the networking and educational events this year."
Prof. Kim is the Director of UCI Law's Korea Law Center. Established in 2009, the Korea Law Center's mission is to study and promote solutions to issues arising at the intersection of U.S. and Korean Law. The Center has served as a platform for the knowledge transfer, exchange and collaboration between students, legal scholars, judges, prosecutors, policy makers and lawyers from South Korea and the U.S.
Prof. Kim's research and teaching interests include corporations, financial institutions, corporate finance, corporate governance, contracts and financial regulation. Prior to joining the UCI Law faculty, she held an appointment at the University of Illinois College of Law. She has also taught at the University of Illinois, College of Business and the University of Illinois China Executive Leadership Program (CELP). Professor Kim received her J.D. from Harvard Law School and her B.A. in Economics, summa cum laude, from Seoul National University. Prior to teaching, Professor Kim practiced law at Kirkland & Ellis in San Francisco and Shearman & Sterling in New York, specializing in the areas of debt finance and capital markets.
"I am very honored to receive this award, and am grateful to OC KABA and the Korean community in Orange County for their generous support of the Korea Law Center," said Prof. Summer Kim.
"This is a wonderful and much deserved recognition for Professor Kim," said UC Irvine School of Law Dean Erwin Chemerinsky. "We are so very fortunate to have her as a member of our faculty and as the Director of our Korea Law Center."
About UC Irvine School of Law
Ranked No. 4 overall in the National Jurist 2016 list of Best Schools for Practical Training, and No. 2, behind Yale, for the ratio of clinic positions, UCI Law is a visionary law school focused on training talented and passionate lawyers and driven by professional excellence, intellectual rigor, and a commitment to enrich our communities through public service. UCI Law is a collegial environment, and our faculty comprises accomplished, nationally ranked thought leaders from around the country with a broad range of expertise. In the 2015 study by University of St. Thomas School of Law, the UCI Law faculty ranked No. 6 in the nation in scholarly impact. More about the Law School is available at law.uci.edu.
Media Contacts:
Colleen Taricani
Assistant Dean for Communications
Phone: (949) 824-3063
Email address: ctaricani@law.uci.edu
Ryne Hodkowski
Public Relations Manager
Phone: (949) 824-0385
Email address: rhodkowski@law.uci.edu