Back to Top
L. Song Richardson Appointed Interim Dean of UC Irvine School of Law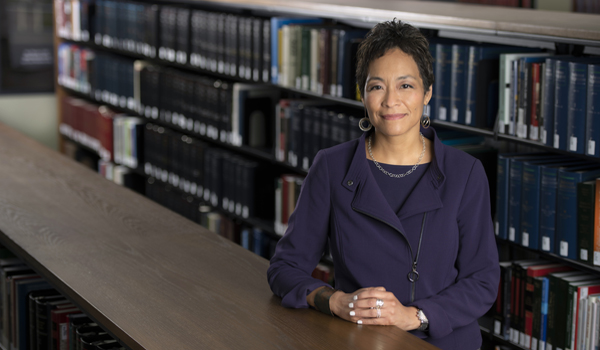 IRVINE, Calif., May 17, 2017 — UCI Provost and Executive Vice Chancellor Enrique Lavernia has appointed L. Song Richardson Interim Dean of the University of California, Irvine School of Law. Richardson will assume the deanship on July 1, 2017. She succeeds Founding Dean Erwin Chemerinsky who will become the Dean of University of California, Berkeley School of Law in July 2017. Click here for the chronology of UCI Law's groundbreaking history.
"I want to express my enormous gratitude to Dean Erwin Chemerinsky for all he has contributed to the success of the Law School and the entire University during his tenure as dean," said UCI Chancellor Howard Gillman. "I'm very grateful that Song Richardson has agreed to serve as interim dean, knowing that she will work with the law school community to maintain our extraordinary momentum."
"Song Richardson's exemplary academic career and leadership as senior associate dean have prepared her to be an effective interim dean for the School of Law," said UCI Provost and Executive Vice Chancellor Enrique Lavernia.
"I am honored and humbled by this opportunity to lead UCI Law as its interim dean," said L. Song Richardson. "Along with Dean Chemerinsky, campus leadership, our top-ranked faculty, and our wonderful staff, students and alumni, we have created an extraordinary Law School that fosters innovation and promotes excellence in legal education. Through our collective leadership, I look forward to an exciting future for UCI Law and to more continued success."
About L. Song Richardson
Richardson has been a member of the faculty at UCI Law since 2014 and serves as Senior Associate Dean for Academic Affairs since 2016. She received a J.D. from Yale Law School and a B.A., cum laude, from Harvard University in Psychology. With a Joint Appointment in Criminology, Law & Society, Richardson teaches and writes in the areas of Criminal Law, Criminal Procedure, and Law and Social Science. She serves on the Faculty Advisory Board for the Center on Law, Equality and Race and is also a Faculty Affiliate for the Center for Biotechnology & Global Health Policy. Richardson is a member of the American Law Institute, the country's leading independent organization made up of elected judges, academics, and practitioners which publishes works to clarify and improve the law. She is also the 2011 recipient of the American Association of Law School's Derrick Bell Award, which recognizes a junior faculty member's extraordinary contribution to legal education, the legal system or social justice through mentoring, teaching, and scholarship. Her article titled, "Police Efficiency and the Fourth Amendment," was selected as a "Must Read" by the National Association of Criminal Defense Attorneys. Her co-edited book, "The Future of Criminal Justice in America," was published by Cambridge University Press. Richardson frequently presents her work at academic symposia, non-academic legal conferences, and is frequently invited to speak across the country for judges, prosecutors, public defenders, police officers and private industry.
Richardson's interdisciplinary research uses lessons from cognitive and social psychology to study criminal procedure, criminal law and policing. Her scholarship has been published by law journals at Yale, Cornell, Northwestern, Southern California, and Minnesota, among others.   
Dean Richardson previously held law professorships at DePaul University, American University, and the University of Iowa. Her legal career has also included partnership at a boutique criminal law firm and work as a state and federal public defender in Seattle, Washington. She was also an Assistant Counsel at the NAACP Legal Defense and Educational Fund, Inc. Immediately upon graduation from law school, Professor Richardson was a Skadden Arps Public Interest Fellow with the National Immigration Law Center in Los Angeles and the Legal Aid Society's Immigration Unit in Brooklyn, NY. Richardson also won first place in nine major piano competitions, including the Boston Symphony Orchestra Concerto Competition.
About UCI Law
One of the top law schools in the country, UC Irvine School of Law is the first public law school in California in nearly 50 years. Fulfilling a longstanding vision of the campus, the school opened its doors to its first class of 60 law students in fall 2009. In May 2017 our Inaugural Class celebrated the first five-year reunion. Today, the Law School has 47 full-time faculty members and 350 students. The School of Law is an innovative and visionary law school focused on training talented and passionate lawyers and driven by academic excellence, intellectual rigor and a commitment to enrich our communities through public service. From the outset, our goal has been to create one of the top law schools in the country and to prepare our students for the practice of law at the highest levels of the profession. UC Irvine School of Law combines the best of a large and renowned academic institution with a collegial, supportive and friendly environment.
The Law School ranks highly and receives tremendous accolades. In 2015, its first year of eligibility, UCI Law ranked No. 30 by U.S. News & World Report out of 200 ABA-accredited law schools in the country. This was the highest debut ranking by any new law school in U.S. News history. UCI Law ranked No. 28 overall in 2016 and 2017. In 2017, U.S. News also ranked UCI Law No. 15 in Clinical Training, No. 17 in Intellectual Property Law, in the top 14 in student diversity and tied with Yale for third for best student/faculty ratio. Other national accolades include:
A 2015 study by members of the University of St. Thomas School of Law measured the scholarly impact of law school faculties. UCI Law ranked No. 6 behind Yale, Harvard, Chicago, NYU and Stanford.
The National Law Journal ranked UCI Law No. 2 in the country for placement of our students in government and public interest jobs.
In the National Jurist 2017 list of Best Schools for Practical Training, UCI Law ranked No. 6 overall with an A+ grade, one of only nine law schools nationally to receive top honors.
In the 2016 Law School Survey of Student Engagement, the vast majority of our students rated their entire educational experience as "Excellent," far exceeding our peer schools and the national average.
UCI Law ranked No. 7 in a recent ranking of student placement in prestigious federal judicial clerkships.
Our students' post-graduation professional opportunities are outstanding and include federal judicial clerkships, large, medium and small law firm employment and public interest legal positions locally and nationally.
The Law School faculty are accomplished thought leaders from around the country with a broad range of expertise. Our curriculum is innovative, challenging and hands-on, and emphasizes strategic problem-solving. Clinical education is a cornerstone of the experience at UC Irvine School of Law. Every student must participate in one of the core clinics, listed below. Students develop practical legal skills through public interest work in these areas:
Core Clinics
Appellate Litigation
Community & Economic Development
Criminal Justice
Domestic Violence
Environmental Law
Immigrant Rights
Intellectual Property, Arts, and Technology
International Justice
Elective Clinics
Civil Rights Litigation
Department of Fair Employment and Housing
International Human Rights
Reproductive Justice
Veterans
Moreover, the Law School's commitment to public service is demonstrated by the large number of students participating in extra-curricular pro bono projects every year. Since we opened our doors to students in 2009, 94 percent of all UCI Law graduates have participated in the school's Pro Bono Program.
The Law School is also highly interdisciplinary, with many faculty members from across campus holding joint appointments and many law faculty holding appointments in other departments. Students can take courses in other fields and can earn joint degrees in almost any area. A robust array of programs complements our curriculum, including a regular speaker series and a myriad of student organizations.
The UC Irvine School of Law Centers and Institutes provide in-depth impact by forging interdisciplinary partnerships with leaders from around the world. These include:
Center for African Business, Law & Entrepreneurship
Center for Biotechnology and Global Health Policy
Center for Empirical Research on the Legal Profession
Center on Globalization, Law and Society
Center for Land, Environment, and Natural Resources
Center on Law, Equality and Race
Center in Law, Society and Culture
Civil Justice Research Institute
Cybersecurity Institute
UCI Initiative to End Family Violence
Korea Law Center
US-China Institute