Back to Top
University of California, Irvine School of Law Presents Annual Pro Bono Awards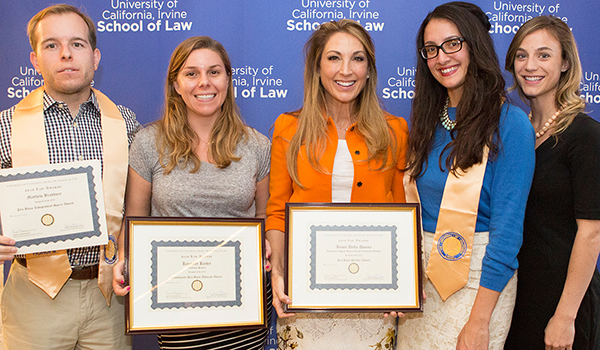 IRVINE, Calif., May 3, 2016 — Two leaders with UC Irvine School of Law's Clemency Project team — attorney Annee Della Donna and UCI Professor Keramet Reiter — received this year's UCI Law Community Pro Bono Awards for their work with UCI Law students in helping the underserved.
Community Pro Bono Awards allow UCI Law to honor those who help advance the school's deep commitment to public service and experiential learning. The Law School encourages each student to participate in its Pro Bono Program by providing legal services to underserved communities and causes while supervised by an attorney or member of the faculty. Since the Law School welcomed its first class in 2009, 92 percent of all UCI Law students have provided more than 50,000 hours of pro bono legal services locally and beyond.
About Prof. Keramet Reiter
Reiter, an assistant professor of criminology, law and society with a joint appointment at the Law School, received the 2016 UCI Law Pro Bono Advocate Award for launching the Clemency Project at UCI Law. The Clemency Project is a collaboration of community attorneys and students providing pro bono assistance for federal prisoners who likely would have received lesser sentences under current law and policy. All clients are referred to the UCI Law volunteers by Clemency Project 2014, a collaboration of stakeholders that identifies potential clemency petitioners, and recruits and trains potential volunteers. Since President Obama pledged to commute the sentences of many non-violent offenders, there has been a great urgency to review several thousand remaining inmates with potential cases. Through the Clemency Project, UCI Law students review pre-sentence reports and prepare memos that summarize cases and their viability for clemency.
"I was honored to receive the Pro Bono Advocate Award, though I think it is the UCI Law community that deserves the commendation," Reiter said. "I was amazed by the outpouring of support I received when I suggested that we assist in the filing of federal clemency petitions in December, and I have been grateful for the investment of so many members of the UCI Law community — including faculty, students and community attorneys — in the process over the past few months."
The Clemency Project currently includes 12 UCI Law students working with five supervising attorneys and one student leader. According to Anna Davis, UCI Law's director of public interest programs: "It was like a gift to have Professor Reiter, who has a wonderful background in criminal law and prisoners' rights, come forward with her strong contacts at Clemency Project 2014 and lead the charge to get our students involved in this critical work."
About Annee Della Donna
Della Donna, a seasoned litigator who opened her own private practice in Orange County in 2002, was recognized with a 2016 UCI Law Pro Bono Partner Award for her tireless work with students on both the Clemency Project and a separate innocence appeals case.
"Annee is exactly the type of attorney with whom I want all of our students collaborating," Davis said. "She somehow balances a busy civil law practice, a family and what is now a growing pro bono practice in the area of criminal law."
Thanks to Della Donna's work over the past 18 months, Davis added, UCI Law students have completed hundreds of pro bono hours on behalf of men and women prisoners seeking justice.
"It has been an honor and a privilege to teach and learn from some of the brightest legal minds in the country," Della Donna said. "These brilliant UCI Law students are fiercely passionate about protecting the rights of the disadvantaged and proving the innocence of those wrongfully accused. Their passion, commitment and hard work has enriched our legal community in Orange County."
Student Recognition
In addition to presenting Community Awards, UCI Law also honored students who personify the school's commitment to public service. In particular, the Class of 2016 was recognized for the following achievements:
More than 92 percent of the class was actively engaged in pro bono work at some time during law school.
Collectively the class completed more than 11,300 pro bono hours over the past three years.
Five students from the Class of 2016 started new pro bono projects, serving a wide range of clients, including seniors and dependent adults seeking protection from abuse and neglect.
A complete list of UCI Law 2016 Pro Bono Award recipients is available here. High-resolution images from UCI Law's Pro Bono and Student Life Awards Ceremony are available on Flickr.
About UC Irvine School of Law
Ranked No. 4 overall in the National Jurist 2016 list of Best Schools for Practical Training, and No. 2, behind Yale, for the ratio of clinic positions, UCI Law is a visionary law school focused on training talented and passionate lawyers and driven by professional excellence, intellectual rigor, and a commitment to enrich our communities through public service. UCI Law is a collegial environment, and our faculty comprises accomplished, nationally ranked thought leaders from around the country with a broad range of expertise. In the 2015 study by University of St. Thomas School of Law, the UCI Law faculty ranked No. 6 in the nation in scholarly impact. More about the Law School is available at law.uci.edu.