Back to Top
New fellowships help UC law students launch public service careers
View this press release on the UC Press Room site: http://universityofcalifornia.edu/press-room/new-fellowships-help-uc-law-students-launch-public-service-careers
Wednesday, April 13, 2016
University of California Office of the President
Media contact: (510) 987-9200
The University of California has launched a new, first-of-its-kind systemwide fellowship program to support UC law students and graduates committed to practicing law in service to the public, UC President Janet Napolitano announced today (April 13).
The University of California President's Public Service Law Fellowships will award $4.5 million annually to promising students at UC's four law schools. The funding will make postgraduate work and summer positions more accessible for students who want to pursue public interest legal careers but might otherwise – out of financial need – seek private sector jobs.
"Lawyers who serve the public interest can use the power of the law to effect positive change and strengthen our democracy," Napolitano said. "For the benefit of California and the nation, we want to foster the public service careers of more UC-educated legal scholars."
The fellowship program is an ambitious new effort – it will provide for approximately 425 summer fellowships and 60 postgraduate fellowships for students at the law schools at UC Berkeley, UC Davis, UCLA and UC Irvine.
The postgraduate fellowships provide $45,000 for graduates entering public service, plus an additional $2,500 to help defray bar-related costs. The summer fellowships provide each fellow between $4,000 to $4,500 to subsidize summer public interest law jobs.
The fellowship funds will be distributed proportionately based on the number of law students enrolled at each law school each year. The law schools will manage the application process and select fellowship recipients.
In addition, the fellowship program provides funding to enable UC law students to participate in the UC Washington Program – a vital UC program that gives students real-world public service experience in the nation's capital.
The fellowship program will culminate each year in a national conference on public service law that would rotate among each UC law school. The conference will showcase important legal scholarship and practice and contribute to the national conversation on public interest law.
UC's four top-ranked law schools have long demonstrated a strong commitment to public interest law. The deans of each UC law school welcomed the infusion of major financial support for students pursuing public service careers systemwide:
"Many students come to Berkeley Law hungry for public service experience, or they find a passion for it once they are here," said Melissa Murray, interim dean of the UC Berkeley School of Law. "We are grateful for the Office of the President's help in creating pathways for students who want to explore these types of careers."
"Public service has long been a hallmark of UC Davis School of Law. Many of our students are inspired by the principles of service espoused by Dr. Martin Luther King, Jr., for whom the law school building—King Hall—is named," said Dean Kevin R. Johnson. "Thanks to the new public service fellowship program, more students can pursue law in the public interest, providing legal assistance to those who need it the most."
"Since its founding, UC Irvine School of Law has been deeply committed to helping our students pursue careers in public service," said Erwin Chemerinsky, dean of UC Irvine School of Law. "The President's new program will help enormously to facilitate public service work by our students during law school and after they graduate. This program should make the UC law schools highly desirable for top students who wish to pursue a public service career."
"Public service has long been one of our key missions not only here at the law school, but at UCLA as a whole," said UCLA School of Law Dean Jennifer L. Mnookin. "These fellowships will enhance our students' opportunities to pursue public interest work and reduce the financial obstacles many face when they pursue public service. I'm absolutely delighted that this investment will make our already strong public interest program even stronger."
Related Link
President's Public Service Law Fellowships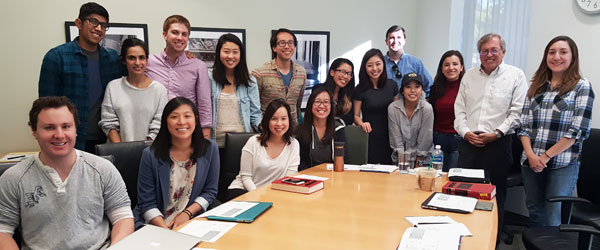 Dean Chemerinsky with the 2015-16 and 2016-17 Public Interest Law Fund board members
About UC Irvine School of Law
UCI Law is a visionary law school focused on training talented and passionate lawyers and driven by professional excellence, intellectual rigor, and a commitment to enrich our communities through public service. UCI Law is a collegial environment, and our faculty comprises accomplished, nationally ranked thought leaders from around the country with a broad range of expertise. More about the Law School is available at law.uci.edu.