Back to Top
UCI Law Professor David Kaye Testifies Before European Parliament about the Impact of Spyware on Human Rights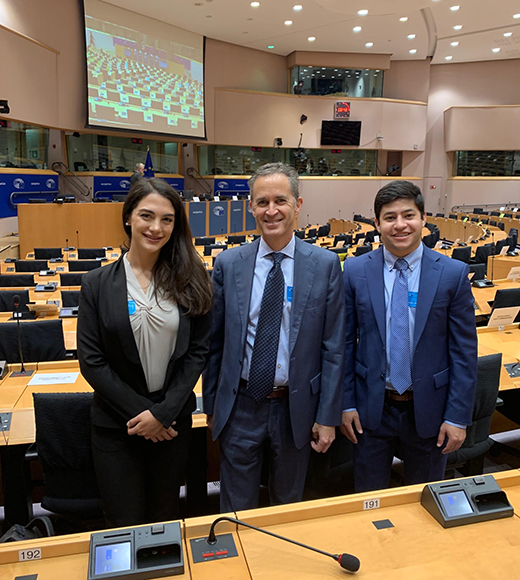 Kaye and students in the International Justice Clinic's private surveillance project are monitoring the legality of invasive spyware technologies 
IRVINE, Calif. (Nov. 7, 2022) — University of California, Irvine School of Law Professor David Kaye testified before a European Parliament committee (the PEGA Committee) on October 27, 2022, in Brussels, Belgium, to address the human rights violations caused by invasive spyware technologies by governments and private actors. The PEGA Committee, named after the notorious Pegasus spyware, is investigating invasive surveillance tools and their use in targeting activists, opposition figures and journalists across Europe. Kaye spoke as part of a two-day hearing to consider how the European Parliament should respond to the proliferation of invasive spyware technologies. A video of the hearing including Kaye's testimony is included here, and his written testimony is included here.
UCI Law second-year International Justice Clinic students, Tara Javadzadeh and Spencer Levitt, also attended the hearing. Law students in the International Justice Clinic are monitoring the use and abuse of spyware technologies, advocating for its regulation, and demanding remedies for victims of surveillance. The clinic's private surveillance project investigates the legality of spyware technologies and its use by both private and state actors under domestic and international law. Clinic students, under the supervision of UCI Law Digital Rights Fellow Hinako Sugiyama, drafted research to accompany Professor Kaye's testimony, highlighting state obligations under international treaties like the International Covenant on Civil and Political Rights (ICCPR). This research builds on Professor Kaye's work as the United Nations Special Rapporteur on Freedom of Opinion and Expression from 2014-2022.
Pegasus (developed by the Israeli company NSO Group) is one example of spyware technology designed as a "zero-click" intrusion — the software infects the personal device of its targets without any requirement that the user click on a malicious link. Once it infects a device, the software can remotely access the user's data, email, messages, camera, microphone, and other communications without any notice or obvious sign of intrusion. The software has been used by governments around the world against their own citizens, journalists, dissidents, and others, both within their borders and abroad.
Kaye testified that spyware technologies like Pegasus violate the right to freedom of expression and opinion guaranteed by the ICCPR. He argued that under Article 19, spyware technologies cause an extreme and long-lasting chilling effect to a wide range of people, including people both actually and potentially targeted (or to be targeted) by spyware, or those who meet or communicate with them such as their relatives, lawyers, and journalist sources.
"Spyware causes individuals to doubt the privacy of their communications and opinions, strategically designed to cause people to question their intentions to engage in private and public discourse," Kaye testified. "For democratic societies, that withdrawal can be fatal."
Concerns about spyware are not limited to the European Union and have been the subject of litigation worldwide. In the United States, Apple and Meta's WhatsApp messaging services sued the NSO Group for violating its operating systems with "zero-click" hacks that compromised the integrity of their systems and the privacy rights of their users. Reporting in recent years — particularly associated with the international Pegasus Project in 2021 and human rights investigations — have identified the use of Pegasus in Europe, the Middle East, South Asia, Mexico and other places worldwide. In 2021, the United States Commerce Department banned NSO Group from contracts with U.S. government and private actors.
"I have serious doubts that surveillance technology with similar characteristics as Pegasus can ever meet the tests of international human rights law. As such, their use should be considered unlawful," Kaye concluded.
About the International Justice Clinic
The International Justice Clinic at the University of California, Irvine School of Law seeks to advance human rights norms and protections and integrate them at national, regional, international and corporate levels — all while training the next generation of human rights lawyers. Directed by Professor David Kaye, former UN Special Rapporteur on freedom of opinion and expression, the clinic has extensive experience addressing threats to human rights, particularly in the digital realm. The clinic works alongside civil society organizations and other stakeholders from across the globe and emphasizes a multi-faceted approach to human rights advocacy.
Our students work on every aspect of the clinic's projects. They conduct international legal research, engage in on-the-ground fact-finding, hold interviews in cross-cultural settings, prepare written analyses, give formal presentations to governmental bodies, build multi-stakeholder coalitions, draft litigation briefs and policy documents, and much more.
The clinic seeks to integrate marginalized and underrepresented voices and perspectives throughout our work.
About the University of California, Irvine School of Law 
The University of California, Irvine School of Law is a top, visionary law school that provides an innovative and comprehensive curriculum, prioritizes public service, and demonstrates a commitment to equity within the legal profession. UCI Law students have completed more than 135,000 hours of pro bono work since 2009. Forty-eight percent of UCI Law's J.D. graduates are people of color. At UCI Law, we are driven to improve our local, national, and global communities by grappling with critical issues as scholars, as practitioners and as teachers who are preparing the next generation of leaders. The collaborative and interdisciplinary community at UCI Law includes extraordinary students, world-renowned faculty, dedicated staff, engaged alumni and enthusiastic supporters. More information on UCI Law is available here. Please follow us on Twitter @UCILaw and Facebook @UCIrvineLaw and Instagram @ucilaw.

Media Contact
Colleen Taricani
Assistant Dean for Communications
ctaricani@law.uci.edu