Back to Top
Two Wrongfully Convicted Young Men Released Due to Hard Work by UCI Law Students in the Innocence Rights of Orange County Pro Bono Project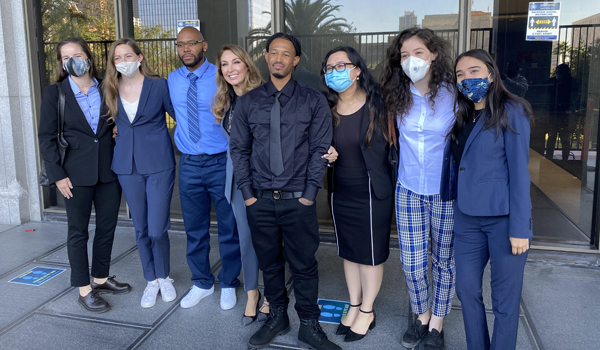 Juan Rayford and Dupree Glass, two wrongfully convicted individuals with 11 consecutive life sentences, were released from prison last week after the University of California, Irvine School of Law (UCI Law) Innocence Rights of Orange County Pro Bono project successfully overturned their convictions in June 2020.
Annee Della Donna, a trial litigator and founder of the Law Offices of Annee Della Donna, has been running the pro bono project for five years. Rayford and Glass, were sentenced as teenagers for a shooting in which no one was seriously injured. The Second District Appellate Court reversed the convictions based upon insufficient evidence to support the kill zone theory. This past spring semester, UCI Law students Amy Abshier, Pauline Duong, Spencer Elam, Margaret Hinson, Madeline Knutson, Courtney Lem, Laila Naraghi and Kaitlin O'Donnell worked tirelessly in collaboration with Innocence Rights of Orange County, Della Donna's pro bono legal advocacy organization. In an upcoming issue of the UCI Law Review – a student run and student edited journal -- Katie O'Donnell has written a note, which focuses on the kill zone theory and its impact in California.
Michelle Ferguson, an associate attorney at Richie Litigation and a 2015 UCI Law alumna, worked on the case while at the law school.  She just happened to be in the same department at the hearing last week, and had this to say about her experience on the project:
"Working on this case through UCI Law's pro bono project back in 2015 was one of the main reasons why I decided to pursue criminal defense as a career after law school, so it was really special to be able to see this case come full circle after so many years," said Ferguson.
"This is such a wonderful testament to the power of pro bono work," said Anna Davis, Director of Public Service Program at UCI Law. "It's amazing that the work of one dedicated attorney and a team of students could result in the release of two young men. It is additionally great to learn that working on a pro bono case, shaped and inspired Michelle to pursue a career in criminal defense."
Nearly 35 UCI Law students have worked on this project since the Spring of 2015 – volunteering a total of more than 1,250 hours.