Back to Top
Environmental Law Clinic Adds Fellow Thanks to Generous Gift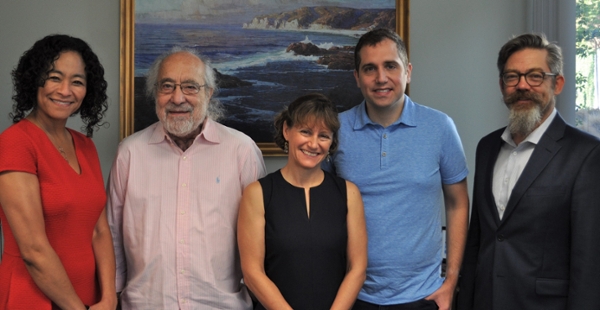 The University of California, Irvine School of Law is pleased to announce a generous gift from the Mysun Charitable Foundation, which will fund a three-year fellowship for the Environmental Law Clinic.
"This grant will further enhance UCI Law's robust clinical program, which is a cornerstone of our school's innovative curriculum and commitment to public service," said L. Song Richardson, Dean and Chancellor's Professor of Law. "We are extremely grateful for the generous donation from the Mysun Charitable Foundation, and for their shared vision in developing new ways to help the underserved."
UCI Law's Environmental Law Clinic provides students with the opportunity to work on important and challenging matters involving the protection and enhancement of the environment and human health. It is one of 13 clinics offered by UCI Law, which ranks No. 13 in the nation in Clinical Training by U.S. News & World Report.
"This gift will allow us to increase the number of students in the Environmental Law Clinic, as well as the number of clients the Clinic will serve," said Prof. Michael Robinson-Dorn, director of the Environmental Law Clinic.  
Alyse Bertenthal will serve as the Mysun Clinical Fellow. In the role, Bertenthal will supervise students' casework; develop connections between academic centers and community leaders; assess community legal needs; and design, implement and evaluate collaborative projects with community and UCI partners.
"This fellowship combines teaching and mentorship with an effort to research the strengths and needs of disadvantaged communities, strengthen engagement and develop local interventions to increase environmental and community wellbeing," Bertenthal said. "This is a remarkable grant that not only offers me an opportunity to develop my career as an academic and teacher, but also contributes to healthier and more sustainable communities."
"I am very grateful to be able to take on this important work, and for the Mysun Charitable Foundation's explicit encouragement of interdisciplinary, creative approaches to tackling problems of inequality."
Bertenthal previously worked as an attorney for Keker & Van Nest LLP and for the American Civil Liberties Union Criminal Law Reform Project. She clerked for Judge A. Howard Matz, U.S. District Court for the Central District of California, and for Judge Richard A. Paez, U.S. Court of Appeals for the 9th Circuit.
"Dr. Bertenthal's track record speaks for itself; she will be a valuable addition to the Clinic and a strong contributor to the groundbreaking work that we do," said Robinson-Dorn. "We are excited to have her aboard, and thankful to the Mysun Charitable Foundation for funding this fellowship."
Bertenthal earned her Ph.D. from UC Irvine, her J.D. from the University of Chicago School of Law, and her B.A. from Yale University, with distinction.
ABOUT THE ENVIRONMENTAL LAW CLINIC
Students in the Environmental Law Clinic take an early and active role representing clients in litigation and policy matters. Students advocate on behalf of clients in courts and before administrative tribunals, while also providing advice and counsel to clients regarding legislative, policy, and strategic matters. The Clinic's docket is diverse, spanning a wide range of environmental and natural resources law, covering local, regional and national issues. As a result, the Clinic provides a rigorous and intellectually challenging educational experience with broad application for students beyond environmental law. 
ABOUT THE UNIVERSITY OF CALIFORNIA, IRVINE SCHOOL OF LAW
Celebrating its 10th anniversary in 2018, the University of California, Irvine School of Law begins its second decade a larger, stronger, more dynamic academic institution than its founders could have ever imagined. UCI Law provides an innovative and comprehensive curriculum, and prioritizes public service and a commitment to diversity within the legal profession. UCI Law students have completed more than 80,000 hours of pro bono work in the past decade. Forty-five percent of UCI Law's graduates are students of color. The collaborative and interdisciplinary community at UCI Law includes extraordinary students, world-renowned faculty, engaged alumni, and enthusiastic supporters. UCI Law continues to rank highly, including: The National Jurist ranks UCI Law No. 4 in the nation for practical training; U.S. News & World Report ranks UCI Law No. 21 in the nation overall out of 194 law schools and ranks UCI Law's robust clinical program No. 13 in the nation; and, according to a recent study, UCI Law's faculty ranks No. 12 in the nation in faculty scholarly impact. More information on UCI Law is available here. Please follow us on Twitter and Instagram @ucilaw and SnapChat: ucilaw.
MEDIA CONTACTS
Colleen Taricani
Assistant Dean for Communications
949.824.3063
ctaricani@law.uci.edu

Ryne Hodkowski
Public Relations Manager
949.824.0385
rhodkowski@law.uci.edu