Back to Top
UCI Law hosts Western Regional Legal Writing Conference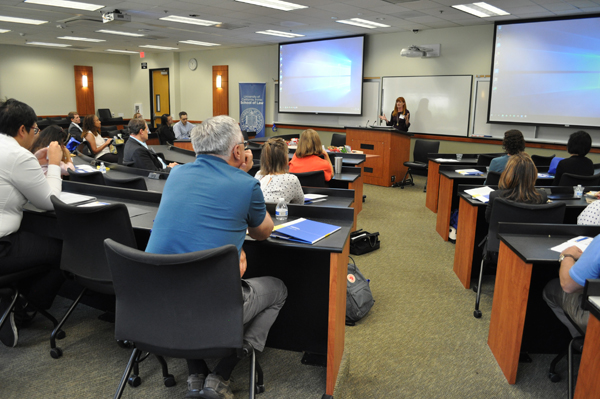 UCI Law's Lawyering Skills program hosted the 2018 Western Regional Legal Writing Conference Sept. 28-29, bringing more than 60 lawyering skills faculty to the campus to share curricular and teaching innovations, research, and resources on the theme of preparing students for modern law practice.
The conference featured several presentations by UCI Law faculty on a broad range of subjects, including:
Friday, September 28:
The Unconventional Sabbatical: Finding Empathy and Inspiration Outside the Legal Academy, presented by University of Oregon School of Law Writing Professor Rebekah Hanley & Professor of Lawyering Skills Ezra Ross
An Interactive Approach to Reviewing Homework Assignments: Teaching Students to Critique and to Be Critiqued, presented by Visiting Professor of Lawyering Skills Judy Rosenbaum
Teaching Professionalism from Day One, presented by Professor of Lawyering Skills Rachel Croskery-Roberts and Associate Dean for Lawyering Skills and Professor of Lawyering Skills Trilby Robinson-Dorn
Incorporating Wellness into the LRW Curriculum, presented by Texas Tech Professor of Law Nancy Soonpaa and Professor of Lawyering Skills Grace Tonner
Saturday, September 29:
Practitioner Panel, featuring Robert E. Gooding Jr., partner at Morgan Lewis; Renato Izquieta, directing attorney for the Legal Aid Society of Orange County; Marissa Oxman, managing partner at CORE Law Group; Jeffrey Wachs, vice president of business and legal affairs at Lakeshore Entertainment; and Adrianne De Castro, associate at Desai Law Firm P.C.. Moderated by Professor of Law Henry Weinstein
Teaching a Law Student to Fish: Teaching Problem-Solving in First Year Legal Writing Programs, presented by Assistant Professor of Lawyering Skills Alison Mikkor
From Cooks to Chefs: Developing the Rhetorical Profile, presented by Visiting Professor of Lawyering Skills Leslie Culver
For a full schedule and list of presenters, click here (PDF).
View the photo album on Flickr.