Back to Top
UCI Law Clinic Helps Deported Army Veteran Return to U.S.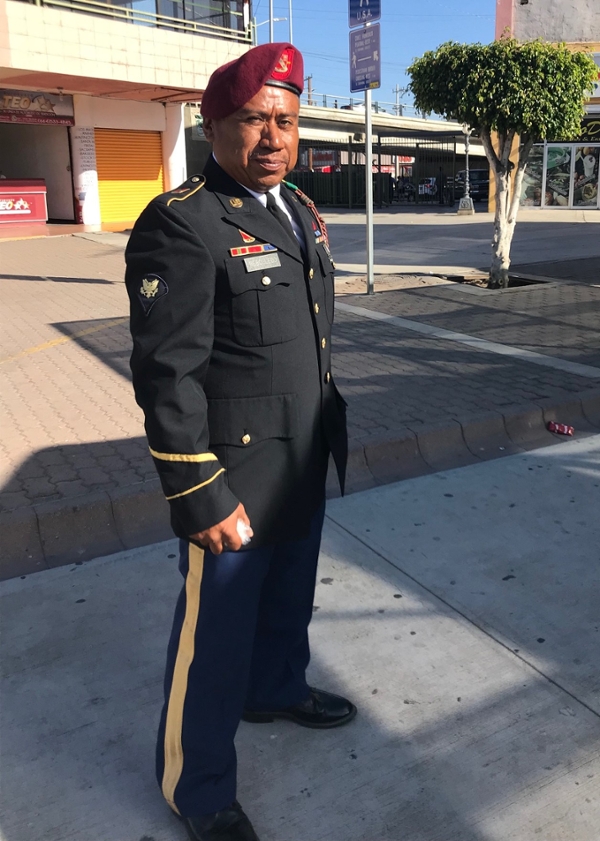 TIJUANA, Mexico (Sept. 19, 2018) -- U.S. Army veteran 
Spc. Fabian Rebolledo
returned home to California today, having won a three-year legal fight following his deportation to Mexico in 2010. The University of California, Irvine School of Law's 
Immigrant Rights Clinic
 (IRC) represented Rebolledo in his immigration case.
Annie Lai
, IRC Co-Director; 
Cpt. Juan Carlos Mercado, 
advocate for deported veterans and Rebolledo
crossed the U.S.-Mexico border at the San Ysidro port of entry this morning.
Rebolledo and his family will be available for interviews at a press gathering this afternoon, the details of which are below.
Date: Wednesday, September 19, 2018
Time: 4:00 p.m. PT
Location: 541 W. 6th Street, Asuza, CA
Rebolledo was recruited into military as a young man. He served at Fort Bragg and in 1999 was deployed to Kosovo, where he worked as a peacekeeper to retrieve bodies of Kosovan villagers who had been killed by Serbian forces. After returning to California, Rebolledo had a son and devoted himself to rebuilding his life. The trajectory of his life, however, was altered in 2010 when he was deported to Mexico. He was separated from his son and parents, as well as the country he served.
When Rebolledo first arrived in Mexico, he was forced to sleep on the streets and in shelters until he found housing with another deported veteran. Through his roommate, Rebolledo eventually found solidarity in a group of deported veterans. He helped to create a mural project at Friendship Park in Tijuana to raise awareness about deported veterans and became an advocate for fellow veterans.
Rebolledo found UCI Law's Immigrant Rights Clinic, which helped him re-open his immigration case after he received relief under California's Proposition 47. In August, an Immigration Court agreed that Rebolledo's re-opened case should be terminated and that his lawful permanent resident status restored.
While Rebolledo is grateful to be returning home, he and his colleagues are committed to continuing to advocate for the return of all deported veterans who remain exiled abroad as a result of our country's harsh immigration laws. Their stories are highlighted in an ACLU report 
Discharged, then Discarded
.


UCI Law graduates Andani Alcantara Diaz ('17) and Danielle Nygren ('18) worked on his case, which was supervised by Lai.
ABOUT THE IMMIGRANT RIGHTS CLINIC
Immigrant Rights Clinic students, working under close faculty supervision, provide direct representation to immigrants on matters ranging from detention and deportation defense to workplace exploitation and protection of civil and constitutional rights of immigrants. The clinic also provides legal support to grassroots organizations working on critical issues affecting low-income immigrants in the region. The clinic strives for and models high-quality, holistic, and transformative lawyering. It acts in accordance with the foundational insight that the community is best served when lawyers help empower marginalized individuals and groups to advocate for themselves.
ABOUT THE UNIVERSITY OF CALIFORNIA, IRVINE SCHOOL OF LAW
Celebrating its 10th anniversary in 2018, the University of California, Irvine School of Law begins its second decade a larger, stronger, more dynamic academic institution than its founders could have ever imagined. UCI Law provides an innovative and comprehensive curriculum, and prioritizes public service and a commitment to diversity within the legal profession. UCI Law students have completed more than 80,000 hours of pro bono work in the past decade. Forty-five percent of UCI Law's graduates are students of color. The collaborative and interdisciplinary community at UCI Law includes extraordinary students, world-renowned faculty, engaged alumni, and enthusiastic supporters. UCI Law continues to rank highly, including: The National Jurist ranks UCI Law No. 4 in the nation for practical training; U.S. News & World Report ranks UCI Law No. 21 in the nation overall out of 194 law schools, and ranks UCI Law's robust clinical program No. 13 in the nation. More information on UCI Law is available 
here
. Please follow us on Twitter and Instagram @ucilaw and SnapChat: ucilaw.
MEDIA CONTACTS
Colleen Taricani
Assistant Dean for Communications
949.824.3063
Ryne Hodkowski
Public Relations Manager
949.824.0385