Back to Top
Spring 2018 Distinguished Critical Race Theory Lecture: Paul Butler
Chokehold: Policing Black Men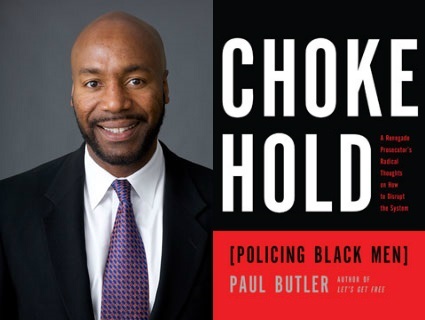 The Albert Brick Professor in Law at Georgetown University Law Center and former federal prosecutor discussed his book, Chokehold: Policing Black Men (The New Press, 2017), examining the systematic criminalization of African American men—in spite of empirical data demonstrating that they are not responsible for the majority of violent offenses—and the ways in which that system might be disrupted.
February 13, 2018
UC Irvine School of Law, Room Edu 1111
5:30 p.m – 7:00 p.m.
Chokehold
Cops, politicians, and ordinary people are afraid of black men. The result is the Chokehold: laws and practices that treat every African American man like a thug. In Chokehold, an African American former federal prosecutor shows that the system is working exactly the way it's supposed to: black men are always under watch, and police violence is widespread—all with the support of judges and politicians.
In his uncompromising style, Butler, whose scholarship has been featured on 60 Minutes, uses new data to demonstrate that white men commit the majority of violent crime in the United States. For example, a white woman is ten times more likely to be raped by a white male acquaintance than be the victim of a violent crime perpetrated by a black man. Butler also frankly discusses the problem of black on black violence and how to keep communities safer—without relying as much on police.
Chokehold powerfully demonstrates why current efforts to reform law enforcement will not create lasting change. Butler's controversial recommendations about how to crash the system, and when it's better for a black man to plead guilty—even if he's innocent—are sure to enter into the national debate about policing, criminal justice, and race relations.
Paul Butler
Professor Butler researches and teaches in the areas of criminal law, race relations law, and critical theory. His scholarship has been published in many leading scholarly journals, including the Yale Law Journal, the Harvard Law Review, the Stanford Law Review and the UCLA Law Review. He is the author of the widely reviewed Let's Get Free: A Hip-Hop Theory of Justice, which received the Harry Chapin Media award.
Professor Butler is one of the nation's most frequently consulted scholars on issues of race and criminal justice, and his scholarship has been the subject of much attention in the academic and popular media. His work has been profiled on programs including 60 Minutes, Nightline, and the ABC, CBS, and NBC Evening News. Professor Butler has written a column for The Legal Times and has published numerous op-ed articles and book reviews, including in The New York Times, The Washington Post, The Los Angeles Times, and The Daily Beast. He lectures regularly for the American Bar Association and the NAACP, and at universities and community organizations. Professor Butler has been awarded the Soros Justice Fellowship, and was elected to the American Law Institute in 2003.             
Prior to his appointment as The Albert Brick Professor in Law at Georgetown Law, Professor Butler was the Carville Dickinson Benson Research Professor of Law at George Washington University Law School, where he also served as Associate Dean for Research and Faculty Development. He was awarded the Professor of the Year award three times by the GW graduating class. Professor Butler has been a visiting professor at the University of Pennsylvania Law School.
Prior to joining the academy, Professor Butler served as a federal prosecutor with the U.S. Department of Justice, where his specialty was public corruption. His prosecutions included a United States Senator, three FBI agents, and several other law enforcement officials. While at the Department of Justice, Professor Butler also worked as a Special Assistant U.S. Attorney, prosecuting drug and gun cases. 
Professor Butler is a cum laude graduate of Yale, and a cum laude graduate of Harvard Law School.  He clerked for the Hon. Mary Johnson Lowe in the United States District Court in New York, and then joined the law firm of Williams & Connolly in Washington, D.C., where he specialized in white collar criminal defense.