Back to Top
2017 Distinguished Critical Race Theory Lecture: Nicole Gonzalez Van Cleve
Crook County: Racism and Injustice in America's Largest Criminal Court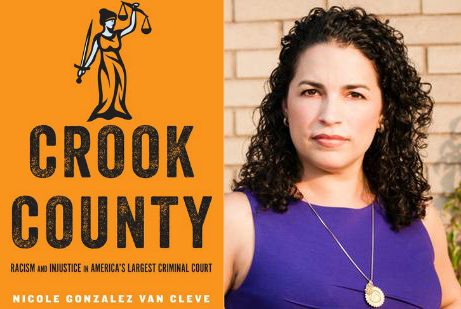 Professor Nicole Gonzalez Van Cleve (Temple University) will discuss her book, Crook County: Racism and Injustice in America's Largest Criminal Court, winner of the 2017 Prose Award sponsored by the Professional and Scholarly Publishing Division, Association of American Publishers, and nominated for an NAACP Image Award for Outstanding Literary Work by a Debut Author.
April 19, 2017
UC Irvine School of Law, Room Edu 1111
5:30 p.m – 7:00 p.m.
Event flyer >
Book signing and reception will follow
Crook County
Americans are slowly waking up to the dire effects of racial profiling, police brutality, and mass incarceration, especially in disadvantaged neighborhoods and communities of color. The criminal courts are the crucial gateway between police action on the street and the processing of primarily black and Latino defendants into jails and prisons. And yet the courts, often portrayed as sacred, impartial institutions, have remained shrouded in secrecy, with the majority of Americans kept in the dark about how they function internally. Crook County bursts open the courthouse doors and enters the hallways, courtrooms, judges' chambers, and attorneys' offices to reveal a world of punishment determined by race, not offense.
Nicole Gonzalez Van Cleve spent ten years working in and investigating the largest criminal courthouse in the country, Chicago–Cook County, and based on over 1,000 hours of observation, she takes readers inside our so-called halls of justice to witness the types of everyday racial abuses that fester within the courts, often in plain sight. We watch white courtroom professionals classify and deliberate on the fates of mostly black and Latino defendants while racial abuse and due process violations are encouraged and even seen as justified. Judges fall asleep on the bench. Prosecutors hang out like frat boys in the judges' chambers while the fates of defendants hang in the balance. Public defenders make choices about which defendants they will try to "save" and which they will sacrifice. Sheriff's officers cruelly mock and abuse defendants' family members.
Crook County's powerful and at times devastating narratives reveal startling truths about a legal culture steeped in racial abuse. Defendants find themselves thrust into a pernicious legal world where courtroom actors live and breathe racism while simultaneously committing themselves to a colorblind ideal. Gonzalez Van Cleve urges all citizens to take a closer look at the way we do justice in America and to hold our arbiters of justice accountable to the highest standards of equality.
Nicole Gonzalez Van Cleve
Nicole Gonzalez Van Cleve is an Assistant Professor at Temple University in the Department of Criminal Justice with courtesy appointments in the Department of Sociology and the Beasley School of Law. She is a recipient of the 2014-2015 Ford Foundation Fellowship Postdoctoral Award and a Visiting Scholar at the American Bar Foundation.
Van Cleve received her Ph.D. in Sociology from Northwestern University where she was a legal studies fellow. Her work examines the cultural impact of mass incarceration on criminal justice apparatuses. She explores the contradictory ways that racial stigma is reproduced by these institutions in a purportedly "colorblind" era. She received her B.A. and M.A. from Northwestern University where she was awarded the Farrel Grant for Public Policy and the Badesch Fellowship from the Chicago Appleseed Fund for Justice. Nicole's chapter, "Reinterpreting the Zealous Advocate: Multiple Intermediary Roles of the Criminal Defense Attorney" is in the book, Lawyers in Practice: Ethical Decision Making in Context (Leslie Levin and Lynn Mather eds., University of Chicago Press, 2011) and was the winner of the 2010 Outstanding Graduate Paper presented by the Sociology of Law Section of the American Sociological Association.
Prior to receiving her Ph.D., Van Cleve served in The Office of the Chief of Staff at the White House during the Clinton Administration and subsequently worked for five years as a Consumer Brand Planner for Leo Burnett, USA. She is the outgoing Research Director for Chicago Appleseed Fund for Justice – a policy/nonprofit organization that specialized in legal advocacy. Van Cleve is the current co-chair of the Law and Society Association's Collaborative Research Network on Critical Research on Race and the Law, a Junior Fellow of Yale University's Urban Ethnography Project, and a member of the Racial Democracy, Crime and Justice Network (RDCJN).