Back to Top
Hire Top Legal Talent from UCI Law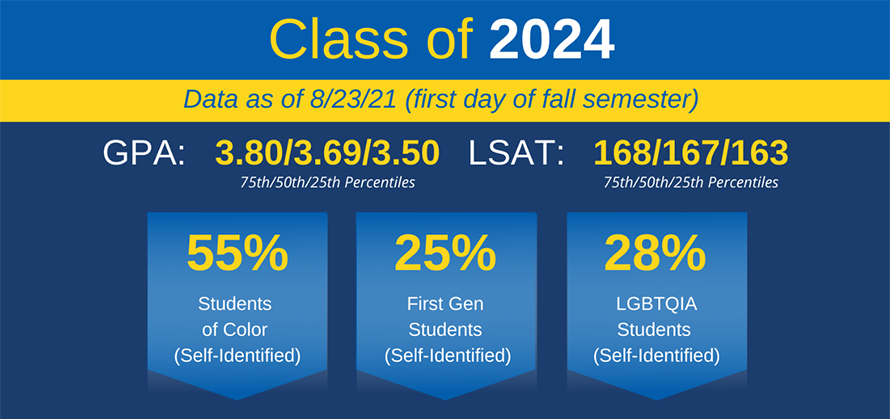 Class of 2024
Data as of 8/23/21 (first day of fall semester)
GPA: 3.80/3.69/3.50 (75th/50th/25th percentile)
LSAT: 168/167/163
55% Students of Color (Self-Identified)
25% First Gen Students (Self-Identified)
28% LGBTQIA Students (Self-Identified)
UCI Law is dedicated to training practice-ready lawyers and legal professionals and has received the following recognitions:
#4 top law school in the county for practical training with an A+ grade, one of only 18 law schools in the nation to receive top honors. (preLaw Magazine).
UCI Law is a top law school for legal technology with an A- grade (preLaw Magazine).
Our students have secured summer and post-graduate employment all over the world.  Latham & Watkins, LLP, the American Civil Liberties Union, Gibson, Dunn & Crutcher LLP, the U.S. Department of Justice, Kids in Need of Defense (KIND) and the California Attorney General's Office are just a few of the employers who have recruited UCI Law students and alumni. We look forward to connecting you with our talented students.
More Information About Our Students
For questions about recruiting and connecting with students at UCI Law please contact Brandy Stewart, Employer Relations & Recruitment Manager at bstewart@law.uci.edu or (949) 824-5963.