Back to Top
New Book, "The Politicization of Safety," edited by UCI Law Professor, Now Available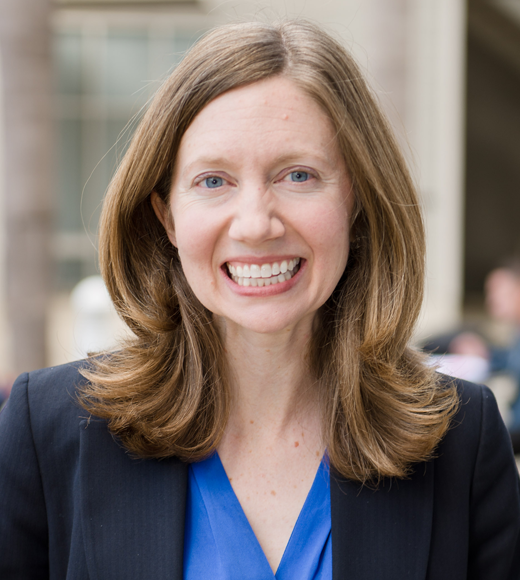 Jane K. Stoever's new book provides a critical perspective on domestic violence responses in the U.S., including gun control, campus sexual assault, immigration, and more that considers the future of responses to domestic violence
IRVINE, Calif. – March 13, 2019 – UCI Law Clinical Professor of Law Jane K. Stoever's newest edited book, "The Politicization of Safety: Critical Perspectives on Domestic Violence Responses," is now available through NYU Press and Amazon.
Domestic violence is commonly assumed to be a bipartisan, nonpolitical issue, with politicians of all stripes claiming to work to end family violence. Nevertheless, the Violence Against Women Act expired for over 500 days between 2012 and 2013 due to differences between the U.S. Senate and House, demonstrating that legal protections for domestic abuse survivors are both highly political and highly vulnerable. Racial and gender politics, the move toward criminalization, reproductive justice concerns, gun control debates, and political interests are increasingly shaping responses to domestic violence, demonstrating the need for greater consideration of the interplay of politics, domestic violence, and how the law works in people's lives.
"The Politicization of Safety" provides a critical historical perspective on domestic violence responses in the United States. It grapples with the ways in which child welfare systems and civil and criminal justice responses intersect, and considers the different, overlapping ways in which survivors of domestic abuse are forced to cope with institutionalized discrimination based on race, gender, sexual orientation, and immigration status. The book also examines movement politics and the feminist movement with respect to domestic violence policies. The tensions discussed in this book, similar to those involved in the #MeToo movement, include questions of accountability, reckoning, redemption, healing, and forgiveness. 
What is the future of feminism and the movements against gender-based violence and domestic violence? Readers are invited to question assumptions about how society and the legal system respond to intimate partner violence and to challenge the domestic violence field to move beyond old paradigms and contend with larger justice issues.
Book Reviews
"This book is a fresh and sophisticated analysis of domestic violence policy, firmly grounded in social science research and legal theory. For anyone who wants to more deeply understand how we can improve the safety of assault victims without committing further injustices in the 'New Jim Crow' era." 
— Karla Fischer, University of Illinois College of Law, Emerita

"The Politicization of Safety is full of paradigm-shifting discussions - each at the intersection of intimate partner violence and other fields, such as immigration, child neglect, firearms laws, police abuse, and many more. Each author is at the top of her field, and every thesis is out of the box. If you want to know where the domestic violence field is going, read this book." 
— Joan S. Meier, Professor of Clinical Law, George Washington University Law School
Book Celebration
March 27, 2019
5:00-7:00 p.m.
UCI Law, EDU 1111 (directions)
Featuring remarks by: Jane Stoever, Director, UCI Law Initiative to End Family Violence and Clinical Professor of Law, UCI Law; Alisa Bierria, Assistant Professor, Ethnic Studies, UC Riverside; Mimi Kim, Assistant Professor, School of Social Work, CSU Long Beach; and Colby Lenz, Davis-Putter Scholar and Ph.D. candidate in American Studes and Ethnicity, USC.
About the Author
Professor Jane Stoever has extensive experience teaching domestic violence clinics and engaging in scholarship in the areas of domestic violence law, family law, feminist legal theory, and clinical legal theory. As the Director of the UCI Law Domestic Violence Clinic, she supervises law students representing abuse survivors in civil, criminal, and immigration cases. She is also Director of the Initiative to End Family Violence, which unites faculty from over 20 departments at UCI with community partners in research, education, and clinical interventions in abuse. Professor Stoever co-chairs the Orange County Domestic Violence Death Review Team and previously taught at Georgetown University Law Center, American University Washington College of Law, and Seattle University School of Law. She received her J.D. from Harvard Law School and her LL.M. from Georgetown University Law Center.
For a high-resolution photo of Prof. Stoever, please click here.
About UCI Law
Celebrating its 10th anniversary, the University of California, Irvine School of Law begins its second decade a larger, stronger, more dynamic academic institution than its founders could have ever imagined. UCI Law provides an innovative and comprehensive curriculum, and prioritizes public service and a commitment to diversity within the legal profession. UCI Law students have completed more than 80,000 hours of pro bono work in the past decade. Forty-five percent of UCI Law's graduates are students of color. The collaborative and interdisciplinary community at UCI Law includes extraordinary students, world-renowned faculty, engaged alumni, and enthusiastic supporters. UCI Law continues to rank highly, including No. 7 in the nation for clinical training, according to the U.S. News & World Report Best Law Schools ranking. More information on UCI Law is available here. Please follow us on Twitter and Instagram @ucilaw and SnapChat: ucilaw.
Media Contact:
Colleen Taricani
Assistant Dean for Communications
949-824-3063
ctaricani@law.uci.edu