Back to Top
UCI Law Student, Jessica Michelle Santiago, to be Awarded 2019 Chairman Scholarship by Hispanic 100 Foundation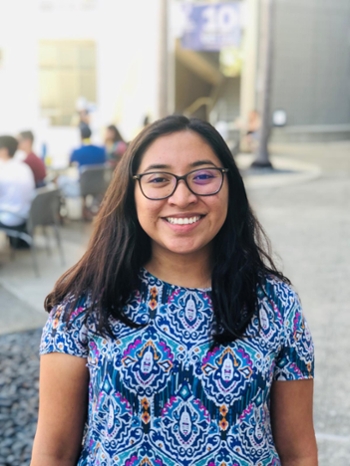 Irvine, Calif., (Oct. 2, 2019) – The University of California, Irvine School of Law (UCI Law) is pleased to announce that Jessica Michelle Santiago, a first year law student, has been awarded the 2019 Chairman Scholarship by the Hispanic 100 Foundation. Santiago will be recognized at the Foundation's 10th Annual Dale Dykema Lifetime Achievement Award Gala on October 5th where the Foundation will also be honoring Treasurer of the United States Jovita Carranza with the Lifetime Achievement Award.
"I am thankful for the opportunity to have a safe space available to me and other young, aspiring Latinos to openly pursue our professional goals," she said. "Earning this scholarship serves to reaffirm that my efforts to expose my family to higher education, to overcome imposter syndrome, and proudly represent my community is valued and important."
The Chairman Scholarship is awarded to only one of the second year mentees in the Hispanic 100's Mentor Program. Hispanic youth can apply to be part of the Mentor Program and win a $1,000 scholarship in order to receive hands-on learning aimed at successfully preparing them to become positive, productive contributors and leaders within their communities. Those who successfully complete their first year, may return for a second year and can apply for the $2,500 Chairman Scholarship.
"The Hispanic 100 Foundation Mentor Program strives to identify leaders within the Hispanic community and equip them with the resources necessary to excel and succeed," said Chairman of the Hispanic 100 Foundation, Mario Rodriguez. "An important part of being a leader within the community is maintaining your commitment to giving back to others in need. Therefore, it is an absolute pleasure to recognize Ms. Jessica Michelle Santiago as the 2019 Chairman's Scholarship Recipient for her unwavering commitment to the Hispanic 100, our Mentor Program, and her unparalleled philanthropic efforts. Ms. Santiago has a promising future and will undoubtedly succeed at anything she puts her mind to."
Santiago's career goal is to become an immigration attorney and one-day serve as a judge. In her scholarship application, she expressed that her passion stems from having to act as a translator for her parents at a very young age in order for the family to get by in the U.S.
"I did more than a simple translation of their words. From pleading to landlords for payment extensions to negotiating payment for my mother's housekeeping services, I learned to convey the urgency and emotion in their message," she said. "Advocating for my parents inspired me to use the skills I gained through translating to help others."
Santiago believes her bilingualism allows her to be effective and compassionate, giving her the tools she needs to advocate for minorities who are vulnerable and unable to navigate the legal system. "A legal education is the toolkit I need to continue doing substantive work in my community, to shift from my role as a gatekeeper to a legal advocate who will fight for marginalized communities to be heard."
The Foundation's objective is to provide a space for young, goal-driven Latinos to become successful business and civic leaders by establishing mentoring relationships between them and successful Hispanic professionals within the Hispanic 100 organization.
"This program has given me with the resources and confidence to continue paving my path towards a professional career as a first-generation student," Santiago said. 
For more information about the Foundation and the Mentor Program, click here.
About the University of California, Irvine School of Law
The University of California, Irvine School of Law is a visionary law school and provides an innovative and comprehensive curriculum, prioritizes public service, and demonstrates a commitment to diversity within the legal profession. UCI Law students have completed more than 90,000 hours of pro bono work in the past decade. Forty-five percent of UCI Law's graduates are students of color. The collaborative and interdisciplinary community at UCI Law includes extraordinary students, world-renowned faculty, engaged alumni, and enthusiastic supporters. More information on UCI Law is available here. Please follow us on Twitter and Instagram @ucilaw and SnapChat: ucilaw.
Media Contacts:
Mojgan Sherkat
949-824-7937
msherkat@law.uci.edu