Back to Top
UCI Law Dean L. Song Richardson to be Recognized in the Orange County Business Journal's 2019 "OC 500" Issue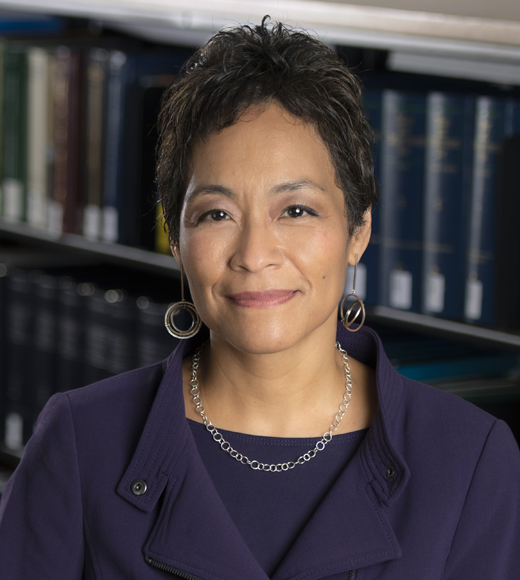 IRVINE, Calif. (Oct. 24, 2019) — L. Song Richardson, Dean and Chancellor's Professor of Law at the University of California, Irvine School of Law (UCI Law) will be listed and honored in the 2019 "OC 500" issue of the Orange County Business Journal, which recognizes influential leaders and opinion shapers in Orange County.
"At UCI Law, we recognize the importance in giving back to the community," said Richardson. "Therefore, I am deeply honored to be recognized alongside such an impressive group of individuals in Orange County who make such a tremendous impact on this community."
The fourth annual issue of the "OC 500" newspaper provides readers with a personal, up-close look at the 500 people who have left their mark on Orange County with their leadership and influence. Honorees range from top executives at the largest publicly traded or privately held companies to up-and-comers, as well as a diverse group of governmental, philanthropic, religious and other civic representatives who contribute to the business community.
Richardson was named Dean of UCI Law in 2018 after serving as the interim dean since July 2017. At the time she was the only woman of color to lead one of the nation's top 30 law schools as ranked by U.S. News & World Report . She earned a J.D. at Yale Law School and an A.B. in psychology at Harvard University. With joint appointments in the Department of Criminology, Law & Society, and the Department of Asian American studies, Richardson teaches and writes in the areas of criminal law, criminal procedure, and law and social science.
Additionally, she has won numerous awards and recognitions, including the American Association of Law School's Derrick Bell Award which recognizes a faculty member's extraordinary contributions to legal education through mentoring, teaching, and scholarship. Most recently, she was awarded the Korean Community Lawyers Association's Friend of the Community Award.
Richardson has been named one of the Top Women Lawyers in California by The Daily Journal , one of the 100 Most Influential business and opinion shapers in Orange County, and one of the most influential Korean Americans in OC.
This is the second time Dean Richardson has been selected for the distinguished list – in 2018, Richardson was also named to the OC 500 list. The 2019 "OC 500" issue of the newspaper will be published on Monday, Nov. 4. She will be recognized at the OC 500 cocktail party held on Wednesday, Oct. 30, at The Hotel Irvine from 5:30 – 7:30 p.m.
More about Dean L. Song Richardson
Richardson serves on the faculty advisory committee of the Center on Law, Equality and Race and is also a faculty affiliate in the Center for Biotechnology and Global Health Policy. Dean Richardson first joined UCI Law as a faculty member in 2014 and was senior associate dean for academic affairs from 2016 to 2017.
She is a member of the American Law Institute, as well as an Executive Committee member of the Association of American Law Schools. Her article "Police Efficiency and the Fourth Amendment" was selected as a "must read" by the National Association of Criminal Defense Lawyers. Additionally, Richardson has published extensively – her co-edited book " The Constitution and the Future of Criminal Justice in America"  was published by Cambridge University Press in 2013. As a researcher, she often uses lessons from cognitive and social psychology to study criminal procedure, criminal law and policing.
Richardson previously held law professorships at DePaul University, American University and the University of Iowa. Prior to that, she was a partner at a boutique criminal law firm, worked as a state and federal public defender in Seattle, and served as an assistant counsel at the NAACP Legal Defense and Educational Fund.
Immediately upon graduation from law school, Richardson was a Skadden Public Interest Fellow with the National Immigration Law Center in Los Angeles and the Legal Aid Society's Immigration Law Unit in Brooklyn, New York. She also won first place in nine major piano competitions, including the Boston Symphony Orchestra Concerto Competition.
About the University of California, Irvine School of Law
The University of California, Irvine School of Law is a visionary law school and provides an innovative and comprehensive curriculum, prioritizes public service, and demonstrates a commitment to diversity within the legal profession. UCI Law students have completed more than 90,000 hours of pro bono work in the past decade. Forty-five percent of UCI Law's graduates are students of color. The collaborative and interdisciplinary community at UCI Law includes extraordinary students, world-renowned faculty, engaged alumni, and enthusiastic supporters. More information on UCI Law is available here. Please follow us on Twitter and Instagram @ucilaw and SnapChat: ucilaw.
Media Contacts: