Back to Top
School of Law founding dean donates personal, professional papers to UCI Libraries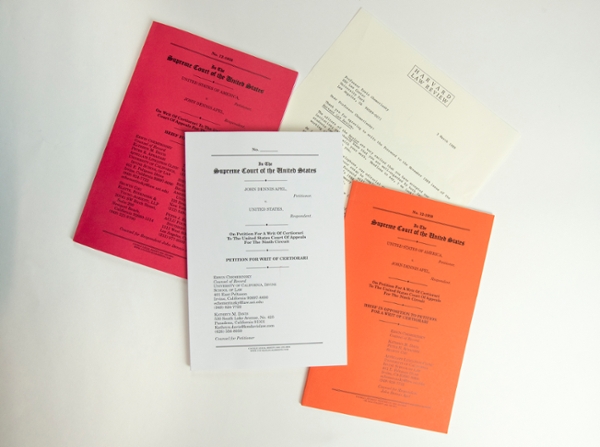 Collection details Erwin Chemerinsky's illustrious 40-year legal career
IRVINE, Calif. (March 4, 2019) — Acclaimed First Amendment scholar Erwin Chemerinsky, founding dean of the University of California, Irvine's School of Law, has donated his personal and professional records to the UCI Libraries.
"I am delighted to provide my papers to the UCI Libraries and hope they will be helpful to others in the future," said Chemerinsky, who currently heads the UC Berkeley School of Law. "Being the founding dean of UCI Law has been the most amazing and rewarding aspect of my career."
For the first time, his work – housed in the UCI Libraries' Special Collections & Archives – will be available for academic research. The papers consist of professional, scholarly and personal materials documenting his life and career. They include publications, teaching materials, case and research files, files related to special projects he worked on, audio and video recordings, media and publicity materials, correspondence, and college and early professional papers.
"We are thrilled to receive Erwin Chemerinsky's papers," said university librarian Lorelei Tanji. "He's such a renowned scholar, educator, administrator and legal expert. His collection includes both published and unpublished works – ranging from landmark cases to his class lecture notes – that will support the research and teaching mission of the campus. We look forward to working with Dean Chemerinsky to make his gift accessible to the community and to develop future programs that will highlight its significant facets."
Chemerinsky is a leading American lawyer and a scholar of U.S. constitutional law and federal civil procedure. He is the author of numerous books and law reviews, including his most recent treatise, We the People: A Progressive Reading of the Constitution for the Twenty-First Century (Picador, 2018). In 2016, Chemerinsky was elected a fellow of the American Academy of Arts & Sciences, and in 2017, he was named the most influential person in U.S. legal education by The National Juristmagazine. From 2008 to 2017, Chemerinsky served as founding dean and Distinguished Professor of law and held the Raymond Pryke Endowed Chair in First Amendment Law at UCI's School of Law. He's now dean and Jesse H. Choper Distinguished Professor of Law at the UC Berkeley School of Law.
In 2017, Chemerinsky helped start the University of California National Center for Free Speech and Civic Engagement. Based in Washington D.C., the center is devoted to research, education and advocacy on issues of free speech and civic engagement. Chemerinsky and UCI Chancellor Howard Gillman co-chair its advisory board.
From late March through September, selections from Chemerinsky's collection will be displayed alongside other key materials in a library exhibit celebrating the UCI law school's 10th anniversary. Materials displayed will showcase the breadth and legacy of Chemerinsky's work as it pertains to UCI, law, and education. A public opening event in late March will feature remarks by Chemerinsky and current UCI Law Dean L. Song Richardson. Contact partners@uci.edu for more information.
About the UCI Libraries

Established in 1963 as one of the founding academic units on campus, the UCI Libraries connect users – faculty, researchers, scholars, students, staff and community members – to information resources, facilitating the creation, preservation and sharing of knowledge in all disciplines. The UCI Libraries support the research needs of UCI and the community through a website and at four facilities: the Langson Library, the Science Library and the Libraries Gateway Study Center on the UCI campus and the Grunigen Medical Library in Orange. For more information, visit http://www.lib.uci.edu.
About UCI Law
Celebrating its 10th anniversary, the University of California, Irvine School of Law begins its second decade a larger, stronger, more dynamic academic institution than its founders could have ever imagined. UCI Law provides an innovative and comprehensive curriculum and prioritizes public service and a commitment to diversity within the legal profession. Its students have completed more than 80,000 hours of pro bono work in the past decade, and 45 percent of its graduates are students of color. The collaborative and interdisciplinary community at UCI Law includes extraordinary students, world-renowned faculty, engaged alumni and enthusiastic supporters. The school continues to rank highly: The National Jurist rates it No. 4 in the country for practical training; U.S. News & World Report places it 21st in the nation overall, out of 194 law schools, and ranks its robust clinical program No. 13 in the country. More information on UCI Law is available here. Follow it on Twitter and Instagram @ucilaw and SnapChat: ucilaw.
About the University of California, Irvine
Founded in 1965, UCI is the youngest member of the prestigious Association of American Universities. The campus has produced three Nobel laureates and is known for its academic achievement, premier research, innovation and anteater mascot. Led by Chancellor Howard Gillman, UCI has more than 36,000 students and offers 222 degree programs. It's located in one of the world's safest and most economically vibrant communities and is Orange County's second-largest employer, contributing $5 billion annually to the local economy. For more on UCI, visit www.uci.edu.
Media Contact:
Sheree Baugh
949-824-4651