Back to Top
UCI Law Graduate Tax Program Students Named Finalists in National Tax Competition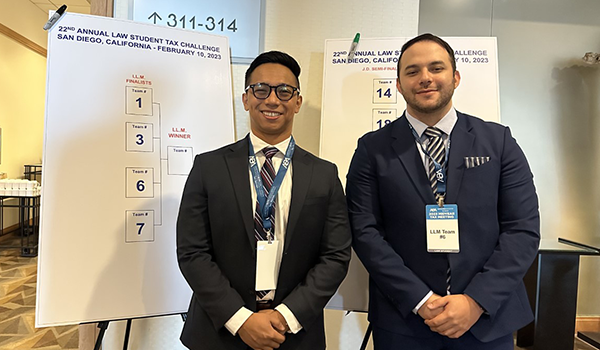 IRVINE, Calif. (Feb. 17, 2023) — The University of California, Irvine School of Law (UCI Law) is proud to announce that a team of two UCI Law Graduate Tax Program students, Andres Berdugo and Eddie Coronado, were recently named as finalists in the American Bar Association's (ABA) 2023 Law Student Tax Challenge (LTSC), a prestigious national tax planning competition sponsored by the Young Lawyers Forum of the ABA Section of Taxation.
The competition, now in its 22nd year, has become one of the nation's largest tax competitions for law students in the United States, attracting 62 teams from 44 schools this year within the LL.M. and J.D. divisions. Only four LL.M. teams were selected as finalists, with UCI Law being one of them. 
Berdugo and Coronado were selected as finalists on the basis of their written submission. On Friday, February 10, at the ABA Tax Section Midyear Meeting in San Diego, they delivered a thirty-minute oral presentation of their analysis before a three-judge panel.
I'm just really thankful to my team captain, Andres, and to everyone in the L.L.M. program who supported us at the competition. It really felt like we were the home team.
- Graduate Tax Program student
  Eddie Coronado
"I'm extremely humbled and thankful for participating in the ABA's LSTC, along with a group of outstanding legal minds," Berdugo said. "This achievement wouldn't be possible without the support and encouragement of our classmates and UCI Law's personnel and faculty, especially Natascha Fastabend and Professor Joshua Blank."
"We are incredibly proud of Eddie and Andres for their achievements in this rigorous national competition.  It was very exciting to be in the room, along with several of their UCI Law classmates who were cheering them on, when they presented before the judges," said Professor Joshua Blank, who also served as the team's coach.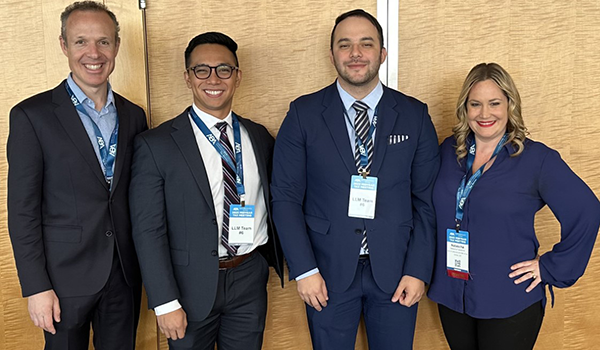 The LTSC is a unique opportunity for law students to demonstrate their knowledge and interact with experienced tax practitioners and potential future employers. It requires a two-person team to solve a complex business problem that may arise in one's tax practice. The teams are evaluated on a memorandum to a senior partner and a letter to a client with an explanation of the result. If selected, the team is invited to present their submission before a panel of judges at the ABA Tax Midyear Meeting.
"The competition was tough but I think it was also a great chance to learn and practice some skills that will be relevant throughout my career," Coronado said. "I'm just really thankful to my team captain, Andres, and to everyone in the L.L.M. program who supported us at the competition. It really felt like we were the home team."
About the UCI Law Graduate Tax Program
The UCI Law Graduate Tax Program is a leading tax program on the west coast. UCI Law offers a one-of-a-kind, practice-oriented Master of Laws (LL.M.) degree program led by renowned tax scholars Omri Marian, Joshua Blank and Victor Fleischer. True to the spirit of UCI Law's cutting-edge approach to legal education, the Graduate Tax Program offers a unique tax curriculum emphasizing practice skills and featuring small class sizes and a collegial, supportive learning environment. The program provides students with both the doctrinal depth and the experiential learning needed to practice tax law and to develop a deep understanding of the new tax law enacted in 2017. The program prepares graduate students for careers as tax attorneys, judges, tax administrators and policy advocates in the United States and abroad, and also offers the opportunity for current practitioners to dramatically expand their tax knowledge and skills.
About the University of California, Irvine School of Law

The University of California, Irvine School of Law is a top, visionary law school that provides an innovative and comprehensive curriculum, prioritizes public service, and demonstrates a commitment to diversity within the legal profession. UCI Law students have completed more than 135,000 hours of pro bono work since 2009 in addition to UCI Law's Clinical Programs. Forty-eight percent of UCI Law's J.D. graduates are people of color. At UCI Law, we are driven to improve our local, national, and global communities by grappling with important issues as scholars, as practitioners, and as teachers who are preparing the next generation of leaders. The collaborative and interdisciplinary community at UCI Law includes extraordinary students, world-renowned faculty, dedicated staff, engaged alumni and enthusiastic supporters. More information on UCI Law is available here. Please follow us on Twitter @UCILaw, Facebook @UCIrvineLaw and Instagram @ucilaw.