Back to Top
Catherine Lhamon to Deliver UCI Law 2022 Commencement Keynote Address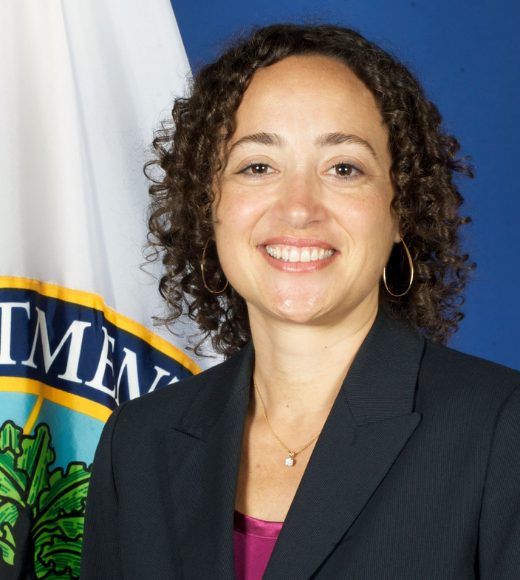 IRVINE, Calif., (March 15, 2022) — Catherine Lhamon, Assistant Secretary for Civil Rights at the U.S. Department of Education, will deliver the keynote address for UCI Law's 2022 commencement ceremony Saturday, May 7, 9:30 a.m. at the UCI Bren Events Center.
Catherine Lhamon recently served as Deputy Assistant to the President and Deputy Director of the Domestic Policy Council for Racial Justice and Equity, where she managed the President's equity policy portfolio. Until January 2021, she chaired the U.S. Commission on Civil Rights, to which President Obama appointed her in 2016, and served as Legal Affairs Secretary to California Governor Gavin Newsom. Before then, Lhamon was Assistant Secretary for Civil Rights at the Department of Education, to which President Obama nominated her and the Senate confirmed her in 2013.
Lhamon has also litigated civil rights cases at National Center for Youth Law, Public Counsel Law Center, and the ACLU Foundation of Southern California. Lhamon taught federal civil rights appeals at Georgetown University Law Center in the Appellate Litigation Program, and clerked for the Honorable William A. Norris on the United States Court of Appeals for the Ninth Circuit.
Lhamon received her J.D. from Yale Law School, where she was the Outstanding Woman Law Graduate, and she graduated summa cum laude from Amherst College.
We are delighted to have Catherine Lhamon as our commencement speaker," said Bryant Garth, Interim Dean at UCI Law. "Catherine is a thoughtful and passionate advocate for civil rights and social justice for everyone. She stands up for what she believes in and is not afraid to take risks. These are ideals we aim to convey to our graduates as they commence their careers and lives beyond the classroom."
In 2016, Politico Magazine named Lhamon one of Politico 50 Thinkers Transforming Politics and the National Action Network honored Lhamon with their Action & Authority Award. In 2015, Yale Law School named Lhamon their Gruber Distinguished Lecturer and the Association of University Centers on Disabilities awarded Lhamon their Special Recognition Award.
Chronicle of Higher Education named Lhamon to their 2014 Influence List as the Enforcer. The Daily Journal listed her as one of California's Top Women Litigators in 2010 and 2007, and as one of the Top 20 California Lawyers Under 40 in 2007. In 2004, California Lawyer magazine named Lhamon Attorney of the Year for Civil Rights.
For more information about UCI Law's 2022 commencement, visit here.
About the University of California, Irvine School of Law
The University of California, Irvine School of Law is a visionary law school that provides an innovative and comprehensive curriculum, prioritizes public service, and demonstrates a commitment to diversity within the legal profession. UCI Law students have completed more than 125,000 hours of pro bono work since 2009. Forty-seven percent of UCI Law's J.D. graduates are people of color. At UCI Law, we are driven to improve our local, national, and global communities by grappling with important issues as scholars, as practitioners, and as teachers who are preparing the next generation of leaders. The collaborative and interdisciplinary community at UCI Law includes extraordinary students, world-renowned faculty, dedicated staff, engaged alumni and enthusiastic supporters. More information on UCI Law is available here. Please follow us on Twitter @UCILaw and Facebook @UCIrvineLaw. 
Media Contact:
Stephanie Wilner
Communications|PR Manager
swilner@law.uci.edu