Back to Top
Investment Company Lord Abbett & Co. Establishes New Scholarship at UCI Law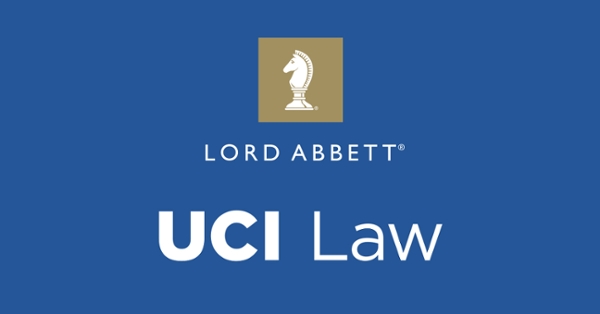 IRVINE, Calif. (Feb. 9, 2021) — The University of California, Irvine School of Law (UCI Law) is delighted to announce the creation of the Lord, Abbett & Co., LLC Diversity Scholarship at UCI Law. The generous gift is being funded and established by Lord, Abbett & Co., LLC (Lord Abbett) an independent, privately-held investment management company headquartered in Jersey City, New Jersey.
"I am so grateful and excited about our new and unique partnership with Lord Abbett," said L. Song Richardson, Dean and Chancellor's Professor of Law at UCI Law. "This outstanding opportunity with Lord Abbett not only provides financial assistance to one of our students, but also creates a multi-faceted relationship with the student recipient as well as with UCI Law."
"I must also thank Julie Hill -- a member of the UCI Law Board of Visitors, Chair of the UCI Foundation and a member of the Board of the Lord Abbett Mutual Funds – who connected our two institutions and who is an outstanding advocate of UCI Law and our student body," added Dean Richardson.
The new gift will provide a three-year scholarship totaling $20,000 to a qualified first-year student. In addition, the scholarship provides a mentorship and internship opportunity. Lord Abbett will pair the gift recipient with a mentor, a legal professional in the firm's Legal Department, for the duration of the program. The student recipient will also be given the opportunity to participate in an eight-week paid internship in the General Counsel's office at Lord Abbett headquarters in Jersey City during the summer following their 1L year. The internship experience will expose the student recipient to legal practice in the financial services industry and to in-house counsel work.
"Not only do we value the support of an organization from the corporate sector, but this partnership also demonstrates that the law plays an integral part in every aspect of our society. Our graduates are up for the challenge," said Dean Richardson.
Reflecting on the scholarship, Catherine Tantillo, Lord Abbett's Head of Community Relations, said, "I am so proud of our partnership with UCI Law. As a firm that is committed to making an impact in our community and to the development of talent, we are excited to provide scholars with a unique opportunity at our firm which will not only provide an experiential learning opportunity but also meaningful exposure to our talent and our culture. We believe these aspects of the scholarship will be an impactful experience for a deserving student."
"We look forward to mentoring and delivering an impactful experience to the scholarship recipient and to providing an opportunity for this individual to gain a first-hand understanding of in-house legal practice at an asset management firm," added Larry Stoller, Partner, General Counsel of Lord Abbett.
UCI Law is currently in the midst of its "Brilliant Future" fundraising campaign -- a five year, $65 million campaign launched in October 2019. The goal is to become a top 10 law school and to accomplish that the UCI Law way: preparing students to confront the challenges of a changing legal profession, and with a commitment to public service and groundbreaking research.
More about Lord Abbett
Lord, Abbett & Co. LLC is an independent, privately held firm and was named one of the Best Places to Work in Money Management by Pensions & Investments. One of the oldest money management firms in the United States, Lord Abbett is inspired by its mission—Securing a sustainable future for our clients, our people, and our world—strengthened by a culture that is principles-led, performance-oriented, and purpose-driven, and guided by the shared values of excellence, responsibility, transparency, and collaboration. Lord Abbett manages approximately $224 billion in assets (as of December 31, 2020) across a full range of U.S. mutual funds, UCITS Funds, institutional and separately managed accounts, including $1.2 billion for which Lord Abbett provides investment models to managed account sponsors.
Investors should carefully consider the investment objectives, risks, charges, and expenses of the Lord Abbett Funds. This and other important information is contained in a fund's summary prospectus and/or prospectus. To obtain a prospectus or summary prospectus on any Lord Abbett mutual fund, contact your investment professional or Lord Abbett Distributor LLC at 888-522-2388, or visit us at lordabbett.com. Read the prospectus carefully before investing.
Lord Abbett mutual fund shares are distributed by Lord Abbett Distributor LLC.
Shares of Lord Abbett mutual funds are not deposits or obligations of any bank, are not guaranteed by any bank, and are not insured by the FDIC or any other agency, and involve investment risks, including the possible loss of principal amount invested.
About the University of California, Irvine School of Law
The University of California, Irvine School of Law is a visionary law school that provides an innovative and comprehensive curriculum, prioritizes public service, and demonstrates a commitment to diversity within the legal profession. UCI Law students have completed more than 110,000 hours of pro bono work in the past decade. Forty-six percent of UCI Law's graduates are students of color. At UCI Law, we are driven to improve our local, national, and global communities by grappling with important issues as scholars, as practitioners, and as teachers who are preparing the next generation of leaders. The collaborative and interdisciplinary community at UCI Law includes extraordinary students, world-renowned faculty, dedicated staff, engaged alumni, and enthusiastic supporters. More information on UCI Law is available here. Please follow us on Twitter @UCILaw and Facebook @UCIrvineLaw.
Media Contact:
UCI Law
Mojgan Sherkat
949-824-7937
msherkat@law.uci.edu