Back to Top
UCI Law Student Laura Flores Awarded Skadden Fellowship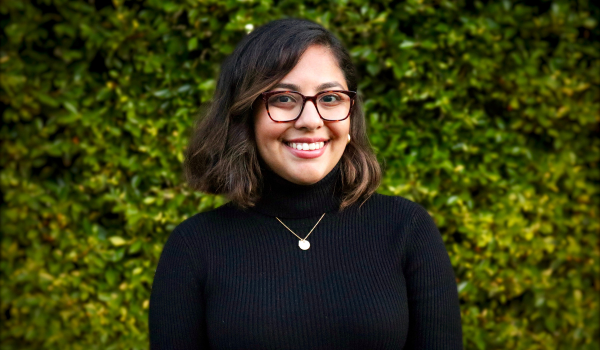 IRVINE, Calif. (Nov. 23, 2021) — University of California, Irvine School of Law (UCI Law) is delighted to announce that third-year student Laura Flores was awarded a prestigious, and highly competitive, Skadden Fellowship for public service work. Flores won the fellowship for her proposed project with Justice Action Center in Los Angeles, which will combine litigation and other advocacy strategies to challenge the federal agency practice of sharing and using unaccompanied immigrant children's mental health and trauma-related information in ways that exacerbate their trauma and undermine their ability to secure immigration relief.
"I am very excited and honored to receive a Skadden Fellowship," said Flores. "This truly was a collective effort and would not have been possible without all of the support and kindness I received from faculty and staff at UCI Law, Justice Action Center, my mentors, and my friends and family. At UCI Law I have been able to pursue my passion for serving immigrant communities through my clinical and pro bono experiences, and I am grateful that I will have the opportunity to continue this work after law school."
 "I am very proud of Laura, her arduous work to achieve this honor, and the extraordinary project she will lead as a Skadden Fellow and beyond," said Bryant Garth, Interim Dean and Distinguished Professor of Law Emeritus. "It is a wonderful reflection of her tremendous talents and also of our Law School's deep commitment to public service."
"I'm so happy that Skadden has awarded Laura with this fellowship," said Annie Lai, Co-Associate Dean for Experiential Education, Clinical Professor of Law, and Co-Director of the Immigrant Rights Clinic. "The recognition is well deserved. And Justice Action Center will be the perfect place for Laura to continue her advocacy on behalf of immigrant communities after graduation."
Flores received many honors while at UCI Law, including the Faculty Award for the highest performance in the Immigrant Rights Clinic, and the Pro Bono Achievement Award. She is an articles editor for the UC Irvine Law Review, the 3L representative, and past Co-Chair, for the Latinx Law Student Association, and served as a UCI Pre-Law Society mentor. Flores received a B.A. in English, magna cum laude, from the University of South Florida.
Since 1988, the Skadden Fellowship Foundation, established by the law firm Skadden, Arps, Slate, Meagher & Flom LLP, selects outstanding, graduating law students who wish to devote their professional lives to public interest work. The fellows create their own projects at public interest organizations and the Skadden Fellowship Foundation provides each fellow with a salary and benefits for two years. For more information about the Skadden Fellowship, including details of this year's recipients, please click here.
About the University of California, Irvine School of Law
The University of California, Irvine School of Law is a visionary law school that provides an innovative and comprehensive curriculum, prioritizes public service and demonstrates a commitment to diversity within the legal profession. UCI Law students have completed more than 125,000 hours of pro bono work since 2009. Forty-seven percent of UCI Law's J.D. graduates are people of color. At UCI Law, we are driven to improve our local, national and global communities by grappling with important issues as scholars, as practitioners and as teachers who are preparing the next generation of leaders. The collaborative and interdisciplinary community at UCI Law includes extraordinary students, world-renowned faculty, dedicated staff, engaged alumni and enthusiastic supporters. More information on UCI Law is available here. Please follow us on Twitter @UCILaw and Facebook @UCIrvineLaw.
Media Contact:
Colleen Taricani
Assistant Dean for Communications
ctaricani@law.uci.edu