Back to Top
UCI Law Students Win Compassionate Release Cases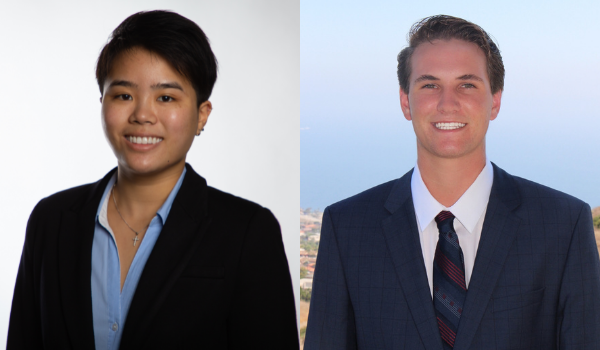 IRVINE, Calif. (July 15, 2021) — Students and a recent graduate of the University of California, Irvine School of Law (UCI Law) secured the compassionate release --  the process of fighting for the release of prisoners and to bring attention to issues of unjust and lengthy sentences and the accelerated aging of elderly prisoners -- of two clients of UCI Law's Criminal Justice Clinic, Marcus Curry and Douglas Ford.
On June 25, 2021, a federal judge in North Carolina granted UCI Law Criminal Justice Clinic's compassionate release motion on behalf of Marcus Curry. Mr. Curry was serving a 41-year sentence for charges related to drug trafficking. He initially filed a pro se motion seeking compassionate release on the basis that he was serving a sentence that, following the First Step Act of 2018, would no longer be imposed if sentenced today for the same offenses, explained Katharine Tinto, Director of the Criminal Justice Clinic (CJC) at UCI Law. His motion was denied. Soon after, the 4th Circuit issued a case stating that such changes in sentencing laws could be the basis for compassionate release.
"We then came in as Mr. Curry's lawyer and filed a motion for reconsideration arguing that he should be re-sentenced on the basis of the changes in sentencing law and his demonstrated rehabilitation," said Prof. Tinto. "The judge granted our motion, reducing Mr. Curry's 41-year sentence to 20 years. We are thrilled that Mr. Curry will soon be released to a halfway house."
Initially imprisoned at the age of 25, he has now served more than 17 years in prison and will be released in a few months to be near his family. The CJC students who worked on Mr. Curry's case were Spencer Elam, Baele Hasbrouck, and Diana Hoag, all rising third year law students.
"It is absolutely an honor to have been able to work on Mr. Curry's case and to stand up against the injustice system," said Diana. "Spencer, Baele, and I are thrilled Mr. Curry gets to return to a welcoming and supportive home where he can start his life again with his loved ones by his side."
Additionally, last semester Prof. Tinto co-taught the "Life Sentencing Practicum" with Christopher Seeds, Assistant Professor of Criminology, Law and Society at UCI. As part of the practicum, students worked on different projects related to life or effective life sentences. Harrison Weimer, a 2021 UCI Law graduate, worked on Douglas Ford's compassionate release motion as part of the Practicum. Harrison wrote the portions of the motion that focused on Doug's rehabilitation and the severity of his sentence. Mr. Ford was serving a 20-year sentence. The motion for release focused on Mr. Ford's continued vulnerability to COVID-19, his demonstrated rehabilitation, and the ten years he had already served in prison. On July 2, 2021, a federal judge in the Western District of Louisiana granted Mr. Ford's immediate release.
"Writing compassionate release petitions, especially for Doug Ford, was a highlight of being in the Life Sentencing Practicum," said Harrison. "Through many months of communicating with Doug, it was a great experience, with an even greater result, to present his story and show the judge Doug's wonderful rehabilitation and support system he had to look forward to when released. Professor Tinto, through working on motions for compassionate release, finds the best ways for UCI Law students to advocate for those who need it most."
"The law students worked incredibly hard to effectively communicate to the judge the extent of the client's rehabilitation and the unjustness of the current sentence, and to provide the court with a broader understanding of the client's life, the crimes he committed, and why those crimes do not define who the client is today," said Prof. Tinto.
CJC began the Compassionate Release Project in 2017. Since starting the project, the CJC has successfully won the release of eight individuals, including four of whom were serving life sentences. 
About the University of California, Irvine School of Law
The University of California, Irvine School of Law is a visionary law school that provides an innovative and comprehensive curriculum, prioritizes public service, and demonstrates a commitment to diversity within the legal profession. UCI Law students have completed more than 123,000 hours of pro bono work since 2009. Forty-seven percent of UCI Law's J.D. graduates are people of color. At UCI Law, we are driven to improve our local, national, and global communities by grappling with important issues as scholars, as practitioners, and as teachers who are preparing the next generation of leaders. The collaborative and interdisciplinary community at UCI Law includes extraordinary students, world-renowned faculty, dedicated staff, engaged alumni, and enthusiastic supporters. More information on UCI Law is available here. Please follow us on Twitter @UCILaw and Facebook @UCIrvineLaw.
Media Contacts:
Mojgan Sherkat
949-824-7937
msherkat@law.uci.edu