Back to Top
UCI Law Review Elects First Ever All-Female Executive Board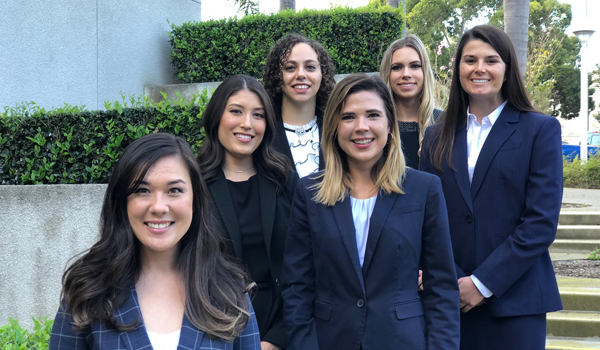 IRVINE, Calif. – For the first time in its history, the University of California, Irvine School of Law (UCI Law) Review has elected an all-female executive board.
"UCI Law Review is one of the only top-ranking law schools to have an all-female executive board," said Tatum Wheeler, the Senior Diversity & Outreach Editor for the journal.
Founded in the spring of 2010, during the inaugural year of UCI Law, the Law Review is a student-run, student-edited journal. It promotes exceptional legal scholarship by featuring contributions from a spectrum of academic, practical, and student perspectives.
"To serve on the first all-woman Executive Board at the UCI Law Review means a great deal," said Courtney Lem, a UCI Law 2L student and the Review's Editor-in-Chief. "Although the legal profession has a history of male dominance, the UCI Law Review has been committed to diversity, inclusion, and innovation since its inception."
The Executive Board members of UCI Law Review Volume 11 are:
Courtney Lem, Editor-in-Chief
Emily Horak, Managing Editor
Brooke Bolender, Senior Articles Editor
Sarah Sakr, Senior Research Editor
Catherine (Katie) Rosoff, Senior Notes & Comments Editor
Tatum Wheeler, Senior Diversity & Outreach Editor
"None of us would be in these positions without the support of our peers. Their belief in us as professionals and leaders means an incredible amount, and cements the fact that the students at this school are committed to equal representation in the legal profession," said Lem.
About the University of California, Irvine School of Law
The University of California, Irvine School of Law is a visionary law school and provides an innovative and comprehensive curriculum, prioritizes public service, and demonstrates a commitment to diversity within the legal profession. UCI Law students have completed more than 100,000 hours of pro bono work in the past decade. Forty-five percent of UCI Law's graduates are students of color. The collaborative and interdisciplinary community at UCI Law includes extraordinary students, world-renowned faculty, engaged alumni, and enthusiastic supporters. More information on UCI Law is available here.Please follow us on Twitter and Instagram @ucilaw and SnapChat: ucilaw.
Media Contacts:
Mojgan Sherkat
949-824-7937
msherkat@law.uci.edu