Back to Top
"UCI Law in NYC" -- UCI Law Launches New Program for Students Interested in New York City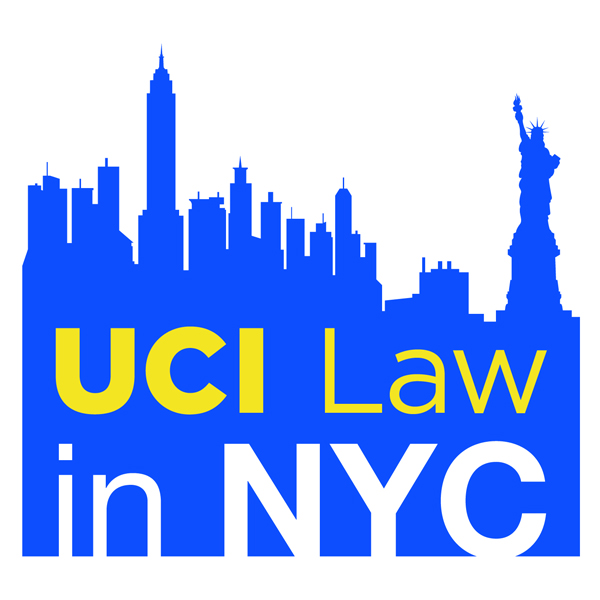 IRVINE, Calif. (Feb. 20, 2020) — The University of California, Irvine School of Law (UCI Law) is delighted to announce a new comprehensive program for students interested in exploring professional opportunities in New York City called, "UCI Law in NYC." UCI Law in NYC will include an annual summer program for UCI Law students in New York City, provide support and guidance to students who are interested in pursuing externships and career paths in New York, and bring together UCI Law alumni who practice in the region.
"UCI Law in NYC highlights the presence of our faculty and students in the country's largest legal market and financial center. This program will enhance our students' educational experience and provide them with a wealth of contacts in New York," said Joshua Blank, Professor of Law and Faculty Director of Strategic Initiatives, who oversees the program.
UCI Law is the first law school on the West Coast to offer a robust program focused on New York City that features three unique components: an on-the-ground summer program for students; coordinated career and externship opportunities in New York (including for academic credit); and year-round programs and events, many of which will feature UCI Law faculty members.
More about the Summer Program
Each summer, students in the UCI Law in NYC program will participate in a ten-week series of educational and social events to introduce them to legal practice and professional opportunities in New York City. The summer program will be open to all UCI Law JD and LLM students.
Participating students will attend roundtable discussions with leading figures from the New York legal community. For the Summer 2020 session, students are currently scheduled to meet with James Cole Jr., Founder and CEO of The Jasco Group, LLC and the Former Delegated Deputy Secretary and General Counsel at U.S. Department of Education; the Hon. Jeh Johnson, former U.S. Secretary of Homeland Security and Partner at Paul, Weiss, Rifkind, Wharton & Garrison LLP; David Kahan, Partner at Wachtell, Lipton, Rosen and Katz; Amos Toh, Senior Researcher, Artificial Intelligence, at Human Rights Watch; Pam Wasserstein, CEO of New York Media and incoming President of Vox Media; and more.
On alternate weeks, students will participate in legal-themed activities throughout the city. Activities for the Summer 2020 session include: visits to the New York Stock Exchange and the Federal Reserve Bank, the Tenement Museum, the High Line public space project, the New York-Historical Society, and the Broadway play, "To Kill a Mockingbird."  
Participating students will take advantage of networking and mentorship opportunities throughout the summer, including happy hours with UCI Law alumni, gatherings with "Anteaters in Law" (lawyers who attended UCI as undergraduates), and meetings with New York-based mentors who are established practitioners in the area.
More about Career Opportunities
The Career Development Office and the UCI Law Externship Program will help participating students learn about professional opportunities in New York, including summer positions following 2L year and externships that take place during the academic year as well as the summer. The program will add to the already extensive list of UCI Law student externships in New York, including externships at the U.S. Securities and Exchange Commission; the U.S. Department of Justice Executive Office of Immigration Review; the Center of Court Innovation; the Sylvia Rivera Law Project; and the chambers of several federal judges in the Southern District of New York and Eastern District of New York.
More about Alumni in NYC
UCI Law alumni are encouraged to participate in various portions of the program, including the annual summer activities, to connect with current students and to build relationships with each another. Throughout the year, UCI Law will offer social activities and programs and events for New York-area alumni.
"UCI Law will create a portal for students to New York -- and we look forward to our many success stories," said Blank.
About the University of California, Irvine School of Law
The University of California, Irvine School of Law is a visionary law school and provides an innovative and comprehensive curriculum, prioritizes public service, and demonstrates a commitment to diversity within the legal profession. UCI Law students have completed more than 100,000 hours of pro bono work in the past decade. Forty-five percent of UCI Law's graduates are students of color. The collaborative and interdisciplinary community at UCI Law includes extraordinary students, world-renowned faculty, engaged alumni, and enthusiastic supporters. More information on UCI Law is available here. Please follow us on Twitter and Instagram @ucilaw and SnapChat: ucilaw.
Media Contact:
Mojgan Sherkat
949-824-7937
msherkat@law.uci.edu