Back to Top
UCI Law Student Recognized with Volunteer Recognition Award by Asian Americans Advancing Justice Orange County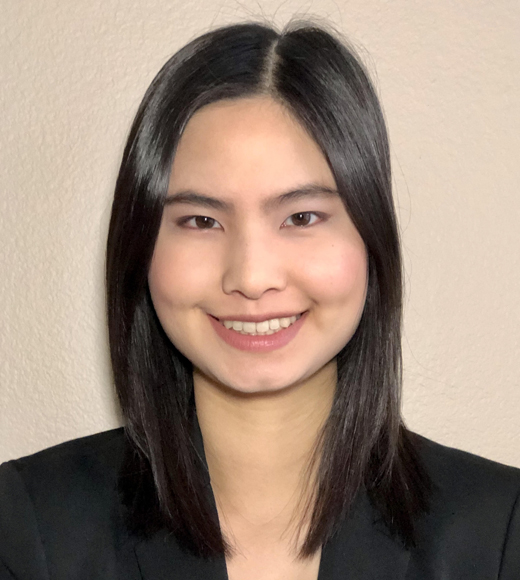 IRVINE, Calif. (Feb. 12, 2020) — The University of California, Irvine School of Law (UCI Law) is delighted to announce Angela Shen, a law student at the school, has been selected to receive one of the Asian Americans Advancing Justice – Los Angeles (AAAJ-LA) Volunteer Recognition Awards. She will be recognized at the 6th annual Pro Bono Advisory Council Volunteer Awards event held on Wednesday, Feb. 26.
"I am grateful to everyone at the Orange County office of AAAJ-LA for recognizing me with this award," said Angela, a 2L at UCI Law. "To me, this award represents the importance of community and giving back to the underserved."
As a volunteer at AAAJ-OC, Angela assists with in-house and off-site immigration clinics, as well as assisting attorneys with small research projects. She works with low-income and minority clients to complete applications for naturalization and other related forms -- often speaking to her clients in Mandarin, as English is their second language.
"Public service has always been important to me. As a second-generation Taiwanese American, I empathize with the struggles minority and immigrant communities face each and every day," she said.
Instilling the value of public service has been a core mission of UCI Law's from the beginning. In only 10 years, 90 percent of all UCI Law students have worked more than 100,000 hours of pro bono legal services for the underserved community. UCI Law recognizes that many people are unable to access the legal services -- our programs provide students the opportunity and training to meet that need, and to use their legal education to improve society.
"Before volunteering, I was not aware to what extent immigrants in Orange County encountered challenges with immigration. Now I know that there are many people in the area who are in need of crucial legal services," Angela explained. "As a law student, I'm in a position to help others secure better lives for themselves here in the United States. I dedicate my time because the clients I meet remind me of my own family and their long process of becoming naturalized citizens."
More about Advancing Justice Los Angeles
With the help of pro bono counsel and volunteers, Advancing Justice-LA continues to serve members of low-income and limited-English proficient communities. These community members work in areas as diverse as workers' rights, citizenship and naturalization, family law, immigration, and voting rights. In 2019, hundreds of individuals volunteered or interned with Advancing Justice-LA (either with their downtown LA or OC offices), donating tens of thousands of hours of service.
Advancing Justice-LA relies on the Pro Bono Advisory Council to assist and promote pro bono matters and volunteer opportunities. Members also raise important funds to support Advancing Justice-LA's programs. The Council, which includes attorneys from major law firms, boutique law firms, and in-house counsel at Fortune 100 companies is currently over 40 members strong.
The volunteer awards will begin at 6:30 p.m. and will be held at the LimNexus law firm offices in Downtown Los Angeles. Along with Angela, AAAJ-LA will be honoring other pro bono counsel, volunteers and interns at the event. UCI Law community members and other interested supporters, can RSVP for the free event here.
About the University of California, Irvine School of Law
The University of California, Irvine School of Law is a visionary law school and provides an innovative and comprehensive curriculum, prioritizes public service, and demonstrates a commitment to diversity within the legal profession. UCI Law students have completed more than 100,000 hours of pro bono work in the past decade. Forty-five percent of UCI Law's graduates are students of color. The collaborative and interdisciplinary community at UCI Law includes extraordinary students, world-renowned faculty, engaged alumni, and enthusiastic supporters. More information on UCI Law is available here. Please follow us on Twitter and Instagram @ucilaw and SnapChat: ucilaw.
Media Contact:
Mojgan Sherkat