Back to Top
UCI Law Student Selected as an Immigrant Justice Corps Class of 2020 Justice Fellow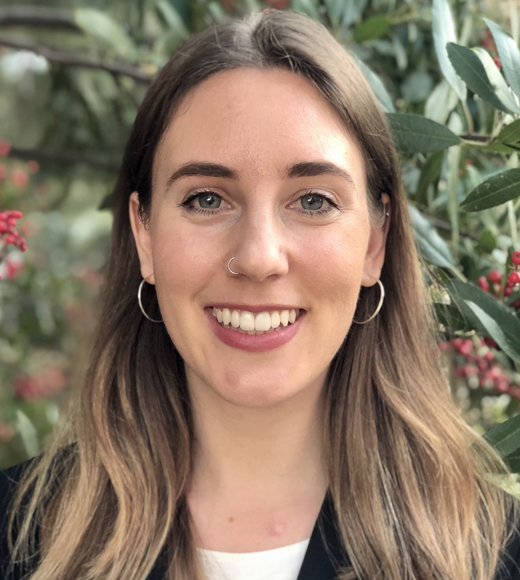 IRVINE, Calif. (Feb. 24, 2020) — Emily Johanson, a student at the University of California, Irvine School of Law (UCI Law), has accepted a Justice Fellowship with the Immigrant Justice Corps (IJC), the country's first fellowship program dedicated to meeting immigrants' needs for high-quality legal assistance.
"I am extremely grateful for the opportunity to provide legal representation to immigrants in detention," said Emily. "I am excited about joining a national network of compassionate immigration attorneys and receiving extensive training tailored to the complexities of immigration law practice."
A 3L at UCI Law, Emily was a member of the Immigrant Rights Clinic and involved in direct representation of detained clients as well as immigrant rights advocacy projects. Through the clinic, she also worked with Al Otro Lado's Border Rights Project meeting with immigrants in Tijuana, Mexico who were preparing to seek asylum in the U.S. Prior to law school, Emily worked in Lebanon strengthening relationships between refugee and host communities.
"Defending the rights of immigrants is one of the defining civil rights movements of our generation. Throughout law school, I have been inspired by brilliant and committed professors, mentors, and classmates. I am honored to be part of coalitions working to further the goals of justice and equality," she explained.
She holds a master's degree in Migration Studies from the University of Oxford, and a bachelor's degree in International Affairs from the George Washington University. As an IJC Fellow with the Capital Area Immigrants' Rights (CAIR) Coalition, Emily will provide direct representation through CAIR Coalition's detained adult program.
More about IJC and the Fellowship
Twenty-six graduates from top law schools across the country have been selected for this year's IJC Fellowship. Selected for their compassion, intellect, and commitment to immigrants' rights, the 2020 Fellows will bring their many skills to bear on this acutely emerging representation crisis in immigration.
All the 2020 Justice Fellows are bilingual and fluent in Spanish, among other languages. The Fellows will serve for two years as staff attorneys at strategically-selected legal services agencies and community-based organizations across the country, providing legal assistance to low-income immigrants in an array of immigration matters including deportation defense and affirmative applications for those fleeing persecution.
About the University of California, Irvine School of Law
The University of California, Irvine School of Law is a visionary law school and provides an innovative and comprehensive curriculum, prioritizes public service, and demonstrates a commitment to diversity within the legal profession. UCI Law students have completed more than 100,000 hours of pro bono work in the past decade. Forty-five percent of UCI Law's graduates are students of color. The collaborative and interdisciplinary community at UCI Law includes extraordinary students, world-renowned faculty, engaged alumni, and enthusiastic supporters. More information on UCI Law is available here. Please follow us on Twitter and Instagram @ucilaw and SnapChat: ucilaw.
Media Contacts:
Mojgan Sherkat
949-824-7937
msherkat@law.uci.edu