Back to Top
UCI Law Receives Inaugural Scholarship Dedicated to First-Generation Law Students from Carol and Eugene Choi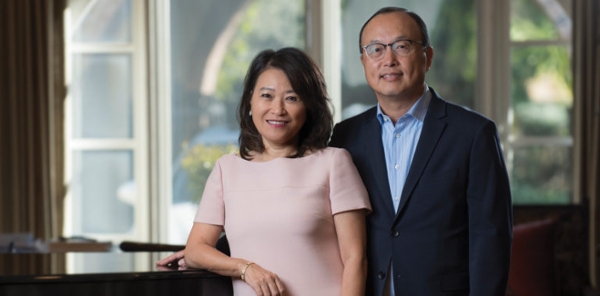 IRVINE, Calif. (June 16, 2020) — The University of California, Irvine School of Law (UCI Law) has announced the creation of its first scholarship endowment targeted at "first-generation" students. The endowment is being generously funded by Carol and Eugene Choi and will be named the Choi Family Endowed Law School Scholarship Fund. 
"We are so thankful to Carol and Eugene for their visionary philanthropy in establishing our first-ever scholarship for first-gen students," said L. Song Richardson, Dean at UCI Law. "Their gift supports one of our most vulnerable populations and supports our core commitment to diversity and inclusion. This endowment is a wonderful model for other donors, and it is our hope and expectation that others will step forward."
Because of a unique matching program offered by UCI, the Choi's $100,000 gift will qualify for a one-to-one match, doubling its impact. Once fully funded, it will provide partial scholarship support for two students each year. 
Historically, between 23 and 25 percent of each UCI Law class has been comprised of first generation students.
Carol and Eugene Choi are among the most dedicated and generous volunteers at UCI. Both Carol '85 and Eugene, '86, MBA '01 are alumni of the University and their daughter, Sarah '18, is an alumna of the Law School. In addition to serving on the UCI Law Board of Visitors, they are trustees of the UCI Foundation. Additionally, Eugene serves on the UCI Chief Executive Roundtable, and Carol served on the UCI Alumni Association Board. Sarah continues the family legacy by serving on the board of the UCI Law Alumni Association. 
In addition to their many volunteer activities, Eugene and Carol also leverage their national and international network to build meaningful connections between the University and the community – from serving as alumni ambassadors in China and Korea to helping establish the Korea Law Center at UCI Law and growing and advising the UCI Korean Alumni Chapter.
Not surprisingly, Carol and Eugene were selected as recipients of UCI's 2020 Lauds and Laurels Extraordinarius Award, the highest honor given by the UCI Alumni Association.
About the University of California, Irvine School of Law
The University of California, Irvine School of Law is a visionary law school and provides an innovative and comprehensive curriculum, prioritizes public service, and demonstrates a commitment to diversity within the legal profession.  UCI Law Students have completed more than 100,000 hours of pro bono work in the past decade. Forty-five percent of UCI Law's graduates are students of color and it is  listed as one of the best law schools for diversity (No. 2 for Asian students, according to preLaw Magazine). Currently, approximately 8 percent of UCI Law's students are of Korean descent.
Media Contact:
UCI Law
Mojgan Sherkat
949-824-7937
msherkat@law.uci.edu