Back to Top
AALS Recognizes Two UCI Law Professors with 2015 Awards for Excellence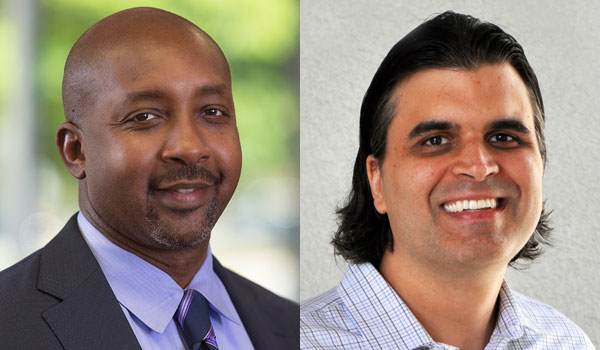 IRVINE, Calif., December 2, 2014 — Two faculty members from the University of California, Irvine School of Law have won Association of American Law Schools 2015 awards for excellence in legal education. Professor of Law Mario L.Barnes won the Clyde Ferguson Award, the highest honor given by the AALS Section on Minority Groups to senior faculty members, and Assistant Professor of Law Seth Davis won the Section on Federal Courts Best Article Award for his 2014 Columbia Law Review piece, "Implied Public Rights of Action." They will be recognized at the AALS Annual Meeting Jan. 2-5, 2015, in Washington, D.C. 
AALS President Daniel B. Rodriguez, in a statement released by the Association, said the 2015 honorees highlight law professors who "represent the very best of our academic community … their commitment to our students and excellence in our profession is rightly celebrated by these section awards."
The Ferguson Award is given to outstanding law teachers who, in the course of their career, have excelled in the areas of public service, teaching and scholarship. The award is particularly aimed at law teachers who have provided support, encouragement and mentoring to colleagues, students and aspiring legal educators. Barnes, a Fellow of the American Bar Foundation, serves as UCI Law's Associate Dean for Faculty Research and Development and co-directs the Law School's Center on Law, Equality and Race. He writes and teaches in the areas of criminal law, constitutional law, national security law, and race and the law.
Barnes and his 2015 Ferguson Award co-recipient, Angela Onwuachi-Willig of the University of Iowa College of Law, are the first to have won both the AALS Ferguson Award — which honors the late law professor and diplomat Clarence Clyde Ferguson Jr. — and the AALS Derrick A. Bell Jr. Award, given to junior faculty members who have made extraordinary contributions to legal education, the legal system or social justice. (Barnes received the Bell Award in 2008 and Onwuachi-Willig in 2006.)
"I am amazed and honored to be chosen for an award that is named for a decorated World War II veteran and significant figure in legal education," said Barnes, who was on active duty with the U.S. Navy from 1990 to 2002 and in 2013 retired from the U.S. Navy Reserve as a Staff Judge Advocate. "The award is made more meaningful by the fact that I will be sharing it with Professor Onwuachi-Willig, an outstanding scholar, dear friend and co-author. I am humbled by the vote of confidence of the UCI colleagues, students and alumni who nominated me, and will strive to be worthy of their support."
The Section on Federal Courts Best Article Award recognizes excellence in legal scholarship. Davis' winning piece, "Implied Public Rights of Action," was published in January 2014 by the Columbia Law Review and examines when federal courts can conclude that the United States or a state government has a right to sue even though Congress has not expressly created that right. Davis specializes in administrative law, property, federal Indian law, federal courts and torts; his scholarship explores the design of public and private rights and public and private enforcement.
"I am honored and humbled to receive this recognition from the AALS and my fellow federal courts scholars," Davis said. "Moreover, I am happy to share this recognition with my colleagues at UCI Law, as it highlights our commitment to teaching and scholarship on public law."
About UC Irvine School of Law
UCI Law, which received full accreditation from the ABA effective June 6, 2014, is an innovative law school focused on educating talented and passionate lawyers driven by professional excellence, intellectual rigor and a commitment to enrich our communities through public service. UCI Law is a collegial environment, and our faculty is comprised of accomplished, nationally-ranked thought leaders from around the country with a broad range of expertise. More about the Law School is available at law.uci.edu.
University of California, Irvine School of Law Contact: Colleen Taricani, Assistant Dean for Communications, (949) 824-3063, ctaricani@law.uci.edu