Back to Top
University of California, Irvine School of Law Welcomes Three New Full-Time Faculty Members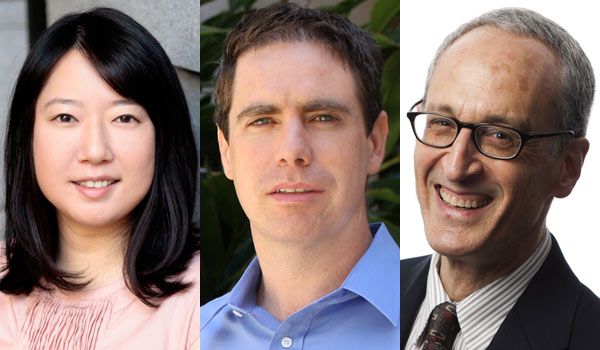 IRVINE, Calif., July 15, 2015 — University of California, Irvine School of Law has hired three new faculty members, bringing the total number of full-time professors to 45. These new faculty members are leading scholars and skilled practitioners in their respective areas of expertise.
Sung Eun (Summer) Kim, Assistant Professor of Law
Professor Kim's research and teaching interests include corporations, financial institutions, corporate finance, corporate governance, contracts and financial regulation. Prior to joining the UCI Law faculty, she held an appointment at the University of Illinois College of Law. She has also taught at the University of Illinois, College of Business and the University of Illinois China Executive Leadership Program (CELP). Professor Kim received her J.D. from Harvard Law School and her B.A. in Economics, summa cum laude, from Seoul National University. She is a South Korean national, and has also lived in Singapore, Malaysia, and China (Beijing and Hong Kong). Prior to teaching, Professor Kim practiced law at Kirkland & Ellis in San Francisco and Shearman & Sterling in New York, specializing in the areas of debt finance and capital markets. Click here for a hi-res image of Prof. Kim.
Omri Marian, Assistant Professor of Law
Professor Marian's areas of expertise include international taxation, comparative taxation, and taxation of financial instruments. He joins UCI Law from the Levin College of Law, University of Florida where he taught since 2012. Prior to his appointment at the University of Florida, Professor Marian practiced law at Sullivan & Cromwell in New York from 2009-2012. Professor Marian earned his L.L.B. magna cum laude from the Tel-Aviv University Faculty of Law in 2006, where he was the Student Editor of Theoretical Inquiries in Law. He earned his LL.M. and S.J.D. from the University of Michigan Law School. Click here for a hi-res image of Prof. Marian.
Kenneth Simons, Professor of Law
Professor Simons is a leading scholar in the fields of criminal law, tort law, and law and philosophy. He is currently Chief Reporter of the Restatement Third of Torts: Intentional Torts to Persons. Prior to joining UCI Law, Professor Simons was a faculty member at Boston University School of Law since 1982. He has published an influential series of articles concerning the nature and role of mental states in criminal, tort and constitutional law. He has also explored such topics as bias crimes, contributory negligence, corrective justice, the logic of egalitarian norms, mistake and impossibility in criminal law, negligence as a moral and legal concept, and strict criminal liability. Professor Simons earned his J.D. magna cum laude from the University of Michigan Law School and his B.A. summa cum laude from Yale University. He has been a visiting professor at Michigan Law School and a clerk for Judge James L. Oakes of the U.S. Court of Appeals for the Second Circuit and Justice Thurgood Marshall of the U.S. Supreme Court. Click here for a hi-res image of Prof. Simons.
"We are delighted to expand our faculty with these brilliant and diverse scholars and teachers," said UCI Law Dean Erwin Chemerinsky. "They each will continue to make important contributions to the legal academy and further broaden our teaching at UCI Law."
About UC Irvine School of Law
UCI Law is a visionary law school focused on training talented and passionate lawyers and driven by professional excellence, intellectual rigor, and a commitment to enrich our communities through public service. UCI Law is a collegial environment, and our faculty comprises accomplished, nationally ranked thought leaders from around the country with a broad range of expertise. More about the Law School is available at law.uci.edu.