Back to Top
UCI Law Advances to International Rounds of Jessup International Law Moot Court Competition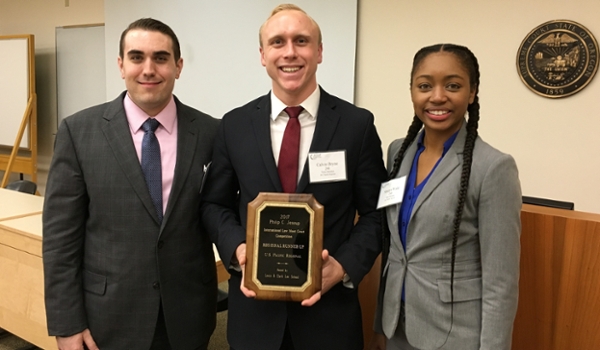 IRVINE, Calif.—For the first time, UCI Law's Philip C. Jessup International Law Moot Court Competition team has advanced to the competition's international rounds, in the world's largest moot court competition. Additionally, UCI Law won third place for its brief writing, and second-year student Shunya Wade placed sixth out of more than 70 oralists in the regional competition.
The UCI Law team of second-year students Calvin Bryne, Joseph O'Brien and Shunya Wade competed against 17 other teams—including Arizona State, Berkeley, Davis, University of Denver, Stanford, Texas and Yale—in the Pacific Regional Competition, held February 23-26 in Portland, Oregon. UCI Law defeated Yale in the quarterfinals and Arizona State in the semifinals, and lost to UC Hastings in the final round, finishing second in the region and advancing to the international rounds.
"These achievements are all the more impressive and earned the admiration of other teams because UCI Law has only three team members, while almost all other teams have five," remarked Professor Christopher Whytock, a team advisor. "I admire Calvin, Joey and Shunya for their perseverance and for developing into absolutely outstanding oral advocates."
The Jessup competition is a simulation of a fictional dispute between countries before the International Court of Justice, the judicial body of the United Nations. This year's competition focuses on legal issues surrounding the rights of indigenous peoples, international refugee law, responsibility for transboundary environmental harm, and protection of cultural property. The international round of the competition will take place in Washington, D.C. on April 9-15, 2017.

The team's performance builds on UCI Law's excellent prior performances in the Pacific Regional competition:
2012: In its inaugural year at the competition, UCI Law placed 8th in the preliminary rounds, had two top-10 oralists, and advanced to the quarter-finals;
2013: UCI Law placed 1st overall, had the 1st-place briefs and two of the top-4 oralists, and advanced to the semi-finals;
2014: UCI Law placed 3rd, had the 8th-place briefs, and advanced to the semifinals;
2015: UCI Law placed 7th, had the 10th-place briefs, and advanced to the quarterfinals; and
2016: UCI Law placed 6th, had the 6th-place briefs, and advanced to the quarterfinals.
Read more about UCI Law's practical professional training>
Read more about the Philip C. Jessup International Law Moot Court Competition>