Back to Top
Erik Jimenez Rodriguez, UCI Law Student, Named a 2021 Latino Excellence Leadership Award Recipient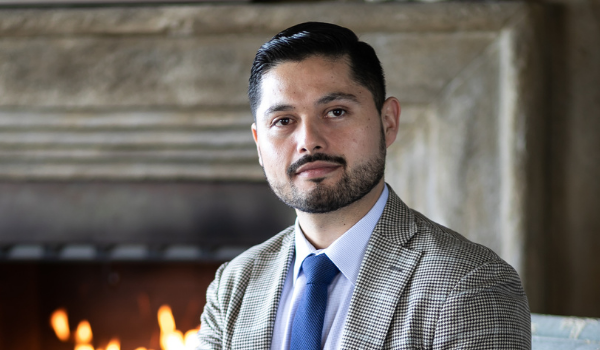 The University of California, Irvine School of Law (UCI Law) is proud to announce that Erik Jimenez Rodriguez, a third-year law student at UCI Law, received a UCI 2021 Latino Excellence and Achievement Award (LEAD), which recognizes key leaders, graduate students, staff and faculty who support and champion student success and research excellence in the Latinx community at UCI and in Orange County. Erik was the only law student, and one of only 15 graduate students from across the entire UCI campus, to receive this honor.
In its fourth year, the LEAD award ceremony took place April 1, 2021 as a virtual gala. This year's event featured remarks by UCI Chancellor Howard Gillman, UCI Foundation Trustee Gaddi Vasquez and U.S. Senator Alex Padilla.
Erik was one of the first three students to accept admission to the class of 2021, and helped UCI Law kick off its 10th year celebration with a ribbon cutting ceremony on August 20, 2018. In addition to this LEAD honor, Erik has received numerous awards, including a 2019 Wally Davis Scholarship from the Orange County Hispanic Bar Association, the 2019 Federal Judicial Externship Program Scholarship from the Mexican American Bar Association and the 2020 Mexican American Bar Foundation (MABF) law school scholarship.
"I want to thank the Latinx Law Student Association for being my support system in law school," said Erik. "Professor Camacho and Estuardo Ponciano, who continuously support Latinx UCI law students. And Professor Ramírez Almadani, who has played a significant role in my development as a student and professional. More importantly, I want to thank my girlfriend for her unconditional love and support; and my parents and siblings who are my inspiration to never give up on my dreams. This award is for you."
Erik migrated to the United States from Mexico when he was six. He channels the adversity that he and his family have faced as undocumented immigrants into his advocacy. As a student in the UCI Law Immigrant Rights Clinic, Erik helped secure the release of individuals in immigration detention facing COVID-19 risk. Last summer, Erik interned at Hadsell Stormer Renick & Dai LLP, where he continued to secure the release of incarcerated individuals detained at LA County Jail, who also faced COVID-19 risk. Most recently, Erik returned as an advanced clinic student to take the lead in a complex asylum case and drafted the client's legal brief in support of her asylum claim. Erik is interested in advocating for vulnerable populations in civil rights, employment, and immigration matters. He will be doing just that as he begins his career as the 2021-22 FAIR Fellow at the Foundation for Advocacy Inclusion and Resources, where his work will focus on advancing low-wage workers' rights and representing employees facing legal issues in the workplace.
For more about the awards, please click here.