Back to Top
UCI Law International Justice Clinic Students Present to Facebook/Meta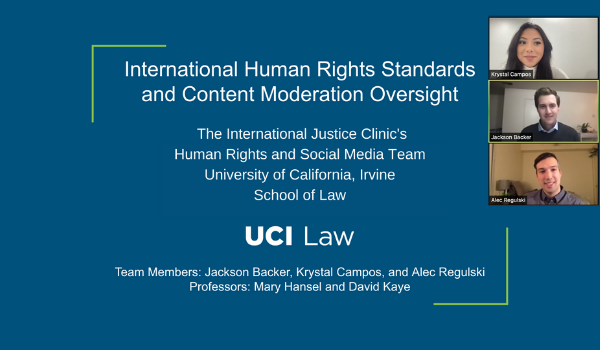 Students and faculty of the UCI Law International Justice Clinic recently gave a presentation to a panel of policy experts at Facebook/Meta providing recommendations on how the company can bring its conduct and the Oversight Board into better alignment with international human rights standards. The presentation was led by UCI Law students Jackson Backer, Krystal Campos and Alec Regulski. UCI Law Professor Mary Hansel supervised.
About the International Justice Clinic
The International Justice Clinic at the University of California, Irvine School of Law seeks to advance human rights norms and protections and integrate them at national, regional, international and corporate levels—all while training the next generation of human rights lawyers. Directed by Professor David Kaye, former UN Special Rapporteur on freedom of opinion and expression, the Clinic has extensive experience addressing threats to human rights, particularly in the digital realm. The Clinic works alongside civil society organizations and other stakeholders from across the globe and emphasizes a multi-faceted approach to human rights advocacy.