Back to Top
Desirae Hutchison, UCI Law Alum, Appointed to Serve as a Judge in Los Angeles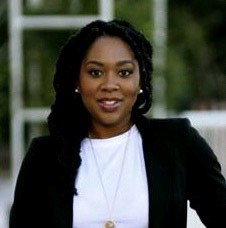 First UCI Law alum to be appointed to the bench
The University of California, Irvine School of Law (UCI Law) is delighted to announce that Desirae Hutchison, UCI Law '14 and UCI, B.A. Criminology and Political Science '10, was appointed by the State of California to serve as Judge for the Workers Compensation Appeals Board, Los Angeles District Office. She is the first UCI Law alum to become a judge. 
"I am honored and look forward to serving the community," she said.
Hutchison was an attorney with the State Compensation Insurance Fund for nearly six years, prior to becoming a judge. She also served as the 2019 president of the Orange County Thurgood Marshall Bar Association and is currently serving as the president of the Thurgood Marshall Bar Association Foundation. In addition, she serves as an alumni representative on the UCI LAW Diversity, Equity, and Inclusion committee. Recently, she served as the keynote speaker for the Saturday Academy of Law.
While at UCI Law, she was a stand-out student who received a round of scholarships recognizing her academic achievement, leadership and commitment to public service, including the Black Women Lawyers Association of Los Angeles Foundation, the Dr. Martin Luther King Jr. Scholarship, and the Black Faculty and Staff Association Student of Service Award from the Black Leadership Advancement Coalition (BLAC).
Hutchison served as the 2012-2013 president of the Black Law Students Alliance (BLSA) at UCI Law. As president, she strengthened the UCI Law community's connections to the main campus, and to the Orange County NAACP and local practitioners in various areas of the legal profession. As a UCI alumna, Hutchison also served as the Associated Graduate Students Law School Representative, where she advocated for her peers on a campus new to dealing with law student concerns.
She worked many pro bono hours for the Mississippi Center for Justice, the Federal Pro Se Clinic and the SSI Clinic, among other projects. In addition, she helped inform the homeless in Orange County of their rights to general relief benefits, and clerked for Fragomen, Del Rey, Bernsen & Loewy. As a student in the Department of Fair Employment and Housing Clinic, she served as a representative for the plaintiff during mediation. She also served as a representative for a mother fighting a retaliatory restraining order as a student in the Domestic Violence Clinic.