Back to Top
UCI Law Hosts Third Annual UC Public Service Law Conference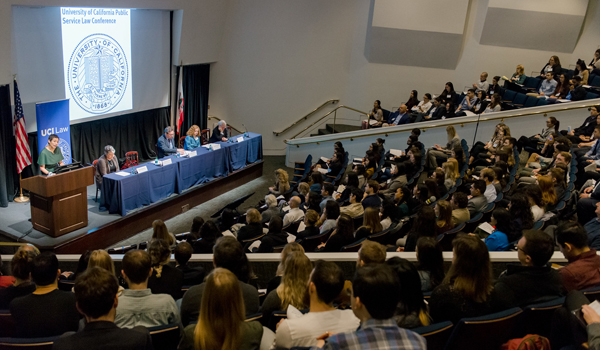 The University of California, Irvine School of Law (UCI Law) hosted the Third Annual UC Public Service Law Conference, which featured University of California President Janet Napolitano and Katie Porter (D-CA 45th) as keynote speakers. The conference was aimed at supporting law students and graduates pursuing their passion for providing justice to all, and it's the only opportunity for students from all the law schools and the Deans of the UC law schools to come together with President Napolitano.
"Fighting for social justice is more important today than ever," said UCI Law Dean L. Song Richardson during her opening remarks. "And we're relying on you – both those who are already lawyers, and even more importantly, those of you who are students – to lead the world to a better place."
The first panel discussion included Dean Richardson, UC Berkeley School of Law Dean Erwin Chemerinsky, UC Davis School of Law Dean, Kevin Johnson and UCLA School of Law Dean, Jennifer Mnookin, and was moderated by UC President Napolitano. They spoke about the importance of law schools preparing students for becoming public interest lawyers, among other topics.
The afternoon keynote session between UC President Janet Napolitano and Jeff Davidson, Partner at Covington & Burling LLP, was about DACA litigation in the U.S. Supreme Court.
The evening keynote speech was given by Congresswoman Katie Porter. She joined UCI Law as a faculty member in 2011 and is on unpaid leave while she serves as Congressmember.
A photo album of the event is available on Flickr.
Watch some of the presentations and panel discussions here.