Back to Top
Student Perspective: Externing as a Summer Legal Clerk at UCOP Office of General Counsel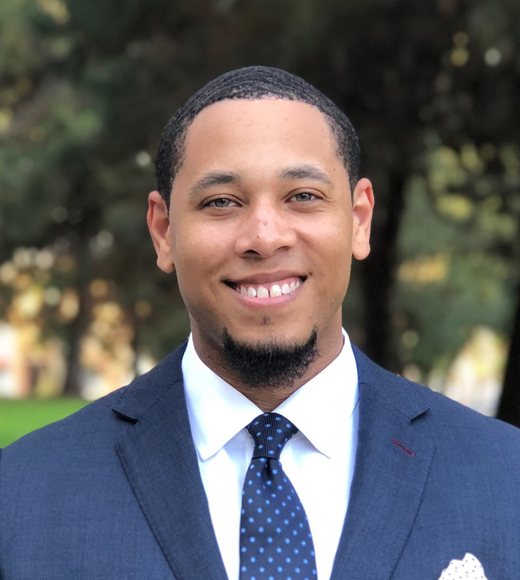 UCI Law Student Perspective by Talford James Gentry Thompson
Summer Legal Clerk in the Health and Technology Law practice at UC, Office of the President
My primary responsibilities as a Summer Legal Clerk in the Health and Technology Law practice at the University of California, Office of the President (UCOP), Office of General Counsel (OGC) included drafting legal memoranda on issues facing UCOP (e.g., what is the permissible scope of covenants not to compete for the acquisition of medical practices that include goodwill); researching and composing guidelines for internal investigations; analyzing term sheets for prospective joint ventures and acquisitions; advising clients on adopting a proposed policies; creating usable reference documents for operational departments; and attending weekly meetings.
What surprised me about working at UCOP OGC was the difference between the lawyering styles when counseling an organizational client compared to advocating on behalf of an individual client. This stood in stark contrast to the traditional focus on client advocacy and litigation present in most first-year law school curriculums. My mentor at UCOP was a transactional attorney and a tax lawyer by trade. I observed her guide her clients through several joint venture deals and prospective acquisitions. One thing that I did not expect, when she was structuring these deals she always asked, "Who is the client?" I found that this was vital information to know because without it a lawyer cannot effectively or competently represent their client's interests.
My mentor's counseling style was collegial, educational, and solution-oriented. Because she typically advised clients on the structuring of deals with entities that are separate from her organizational client, her knowledge of the client's policies and historical context proved invaluable for representing its interest during negotiations. Additionally, her tact when pushing back was usually well-received because she explained both sides of the issue in order to find common ground that would move the conversation forward.
Here, I learned that one of the obstacles to being a great transactional attorney, especially in the non-private sector when representing an organizational client, is having enough institutional memory to know what your client needs. Coming into this placement, I labored to familiarize myself with all of the different interplays within the client generally, and all of the different sub-organizations that comprise it. Because different parts of the client could be in contention, or leaders (such as board members), you must understand when and how conflicts present themselves under the circumstances.
I chose this particular externship opportunity because I thought it would give me the broadest exposure to the types of legal practice and practice areas I could pursue in my career. The UC system is the largest employer in the state of California, and one of the largest employers in the nation. Because it is so large and influential, its legal department handles matters from all areas of law, which allowed me the opportunity to learn about them. Furthermore, the UC is unique because it is a governmental entity that shares many of the same characteristics of other large private organizational clients. I believe this allowed me to experience the best of both worlds for government sector and private sector practice.
This experience influenced my professional identity as a future lawyer by solidifying that my jolliness is a good trait, that my openness with others and willingness to invest in them helps me building meaningful relationships, and that my gumption will be enough for me to weather the storms of being an attorney. More than anything, it made me feel validated in who I am and that there is no reason for me to feel that I must change myself in some way to be a great lawyer. I had the opportunity to be evaluated by attorneys who have been in the profession for many years and in many settings, which led to me seeing the commonalities I share with them and feeling like I made the right decision to pursue the law. I feel like I came away with leaving a good impression and getting my reputation in the profession off to a good start.
For students thinking about externing at UCOP OGC, I would strongly suggest they take the opportunity if they receive an offer! Going into the role, you should feel comfortable approaching anyone in the office with any questions. They are undeniably one of the friendliest groups of people to work with. Next, when you are working on a project, I would suggest setting internal deadlines for yourself and checking-in with the assigning attorney at regular intervals to make sure you are on the right track. Lastly, have fun! The legal issues presented to UCOP OGC are varied and exciting, so enjoy flexing your legal muscles as you work through them.
For students considering externing in the government or health care sectors generally, I suggest the following: first, during your interview process, ask questions about the most common task externs perform and the amount of time spent on them. The goal is to have an understanding of how you will be spending your days and whether you will like the work you will be doing. Next, invest in developing a relationship with the leadership of the organization. These individuals can serve as references, and even possibly employers, as you progress through your career. Finally, be sure to reflect on a daily, weekly, and monthly basis about your time in this sector and the clients you serve to come away with a better understanding of the direction you want to take your career.
The Government Externship course enhanced my placement at UCOP OGC by providing me with a framework to evaluate my placement and fit in this area of law through reflection exercises, peer-to-peer learning, and instructor feedback. The assignments and time commitment are perfectly balanced for the externship experience. Additionally, the externship professors do go out of their way to see students excel in their placement and career goals.