Back to Top
UCI Law Graduate Viri Chabolla '20 Receives 2020 Latino Excellence and Achievement Award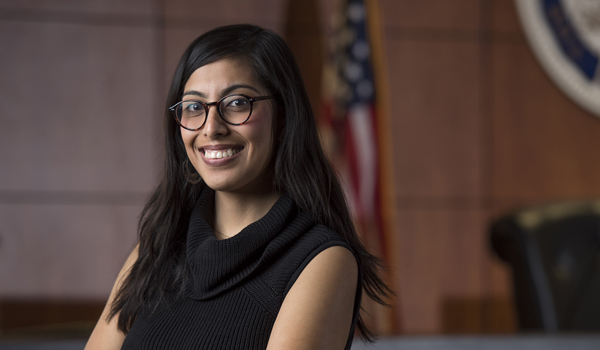 The University of California, Irvine School of Law (UCI Law) is delighted to announce that Viridiana (Viri) Chabolla '20, has been selected to receive the 2020 Latino Excellence and Achievement Award, in recognition of Leadership. The award recognizes those who have advocated, supported and championed student success and research excellence in the Latinx community at UCI and in Orange County.
"As a first-generation student and a formerly undocumented student, I am honored to receive this award," said Viri. "Service to the Latinx community is very important to me, as I know that none of us make it here alone. My success is a reflection of the time, resources, and encouragement that educators, mentors, activists, and my family have given me. I hope to continue sharing all that I have been given and support other Latinx students in reaching their goals."
Due to the COVID-19 pandemic, the awardees will be honored virtually through a variety of platforms like social media. In years past, the Latino Excellence and Achievement Dinner (LEAD) brought together the campus community to celebrate:
Research excellence and achievement;
Recognize faculty, staff, and alumni who provide support and encouragement; and
Create a sense of institutional memory focused on academic and professional leadership within the UCI Latinx community.
"This award reflects Viridiana's demonstrated commitment to equity-minded leadership as related to immigrant rights, working families, and access to education," said Joseph Morales, the co-chair of the LEAD committee.
Currently, Latinos make up nearly 40 percent of the California state population, but make up only about 12 percent of the graduate student population at UCI. LEAD aims to raise awareness of challenges in the graduate community, increase visibility of success, and inspire the Latinx community to advance in graduate and postdoctoral programs. It is the only celebration and awards event in the University of California system that elevates Latinx graduate student success.