Back to Top
UCI Law Hosts Annual Student Life & Pro Bono Awards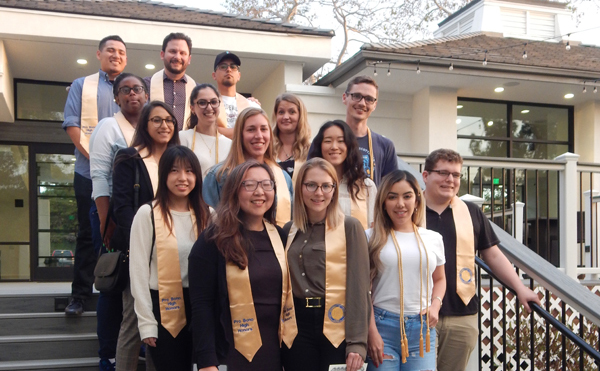 UCI Law hosted its annual Student Life & Pro Bono Awards on Thursday, April 11, celebrating UCI Law students' pro bono and leadership work, and honoring the supervisors and supporters who assist the students throughout the year.
The Class of 2019 completed more than 11,000 hours of pro bono during their time at UCI Law, and 93 percent of the class participated in pro bono. 34 percent volunteered at least 120 hours, and 25 students volunteered more than 200 hours during their time at UCI Law.
In total, the Class of 2019, 2020 and 2021 participated in more than 100 pro bono projects this academic year. Their combined efforts resulted in the completion of more than 90,000 pro bono hours since the program's inception in 2009.
Students participated in a wide range of pro bono projects, just a few included working on expungements; securing housing for homeless individuals; helping transgender clients with name and gender marker changes; and preparing bankruptcy applications; assisting prosecutors and public defenders; preparing visa, asylum, DACA and naturalization applications; helping the poor, disabled, elderly and veterans attain benefits; and drafting declarations for victims of abuse.
The Community Pro Bono Advocate Award went to Don Daybell, Orrick, Herrington & Sutcliffe LLP; Dominique Quevedo, Legal Aid Foundation of Los Angeles; and Justine Schneeweis, Legal Aid Foundation of Los Angeles, for their work on the Permanency Project. The Pro Bono Partnership Award was given to Orrick, Herrington & Sutcliffe LLP for providing over 1,500 hours of pro bono supervision to UCI Law students over the past 10 years. The Pro Bono Independent Spirit Award went to Sue Chang '19 for the Tijuana Border Protection Project; Li Chia '19 and Cameron Sheldon '19 for Spring Break Immigration Detention Center Projects. 

For a full list of pro bono award winners, click here.
UCI Law Leadership & Service Awards also were announced at the event. The awards are created by students, and recipients are nominated and chosen by peer vote. Student Leader Awards were given to Tatum Wheeler '21, Rose Lyn '20, Desiree Murray '19, and Yiting Liu '19.

For a full list of award categories and recipients, please click here.
For a photo album of the Pro Bono & Student Life Awards, click here.