Back to Top
Dean Richardson and Prof. Ballakrishnen to Participate in Leadership Conference Hosted by Freedman Institute at Hofstra University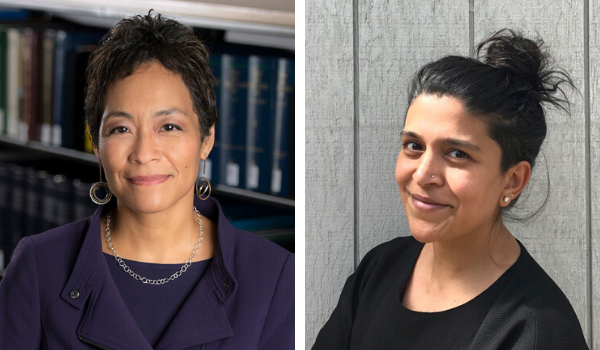 The University of California, Irvine School of Law (UCI Law) is honored to announce Dean L. Song Richardson and Assistant Professor of Law Swethaa Ballakrishnen will participate in panels at the "Leading Differently Across Difference: A National Conference on Training Lawyers as Leaders" in New York. The conference is hosted by The Freedman Institute for the Study of Legal Ethics at Hofstra University's Maurice A. Deane School of Law in conjunction with other law schools and law firms. It will be held at the Association of the Bar of the City of New York on Friday, Nov. 8.
The one-day conference will address the need for law schools to train lawyers to be leaders, specifically to focus upon equity and inclusion as essential to leadership training.   
Partaking in the panel "Academics in an Era of Change," Dean Richardson will discuss what law schools can do to integrate equity and inclusion into leadership and promote leadership training. Questions that will be raised include:
What have you tried?
What has worked well and what has been more challenging?
Interaction of equity and inclusion challenges with other issues.
An expert in the areas of criminal law, criminal procedure, and law and social science, Richardson has joint appointments in the Department of Criminology, Law and Society and in the Department of Asian American Studies at UCI. Her interdisciplinary research uses lessons from cognitive and social psychology to study decision-making and judgment in a variety of contexts.
Additionally, she frequently speaks to law firms, district attorney and public defender offices, police departments, universities, judges, bar associations, and private industry across the nation about the science of implicit bias and its influence on decisions, perceptions, and judgments.
Professor Ballakrishnen, whose research examines the intersections between law, globalization and stratification from a critical feminist perspective, will be on the "Leadership and Gender – Women, LGBTQA, Race and Gender Issues" panel. Ballakrishnen's work interrogates how law and legal institutions create, continue, and counter different kinds of socio-economic inequalities and their work on diversity within the legal profession has appeared in a range of legal and interdisciplinary journals.
Beyond publications in academic journals, Ballakrishnen speaks about the implications of this work regularly with schools, firms, and professional associations to help rethink their inclusion strategies, particularly paying attention to the ways in which organizations, even with the very best intentions, fail to create sustainable equality for their inhabitants. 
The legal profession and law schools exist in a time of profound changes in the culture and in lawyering across various fields. Leading Differently Across Difference conference asks and seeks to provide answers to like questions: How do we promote leadership training in law schools in a more inclusive and forward-thinking manner? How do the profession and the academy confront the need to develop cultural competence; deal with gender, race and other identities affecting full participation; and address generational differences? Why have we not done better in equity and inclusion?
For the full schedule, and for more information about the conference, please click here.