Back to Top
UCI Law Students Participate in Nonprofit Pro Bono Clinic, Log More than 90K Hours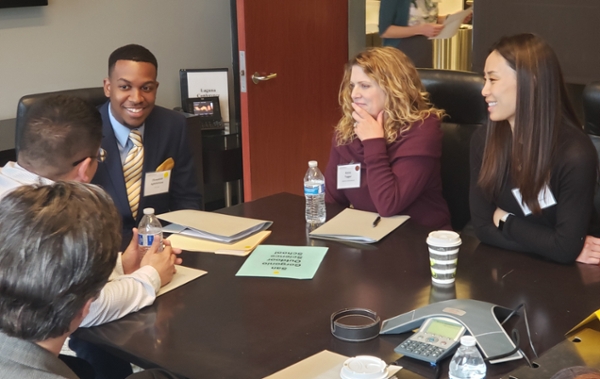 Several UCI Law students participated in a pro bono nonprofit assessment clinic on April 4, 2019, in Costa Mesa.
The clinic was a collaboration of Snell & Wilmer LLP, the Association of Corporate Counsel, Public Law Center and UCI Law. Students and attorneys who participated provided legal assistance to local nonprofits.
The nonprofit assessment clinic is just one of dozens of pro bono projects UCI Law students have participated in this academic year, resulting in more than 90,000 pro bono hours since the inception of UCI Law's Pro Bono Programs.
"I am in awe of our students," said Anna Davis, director of pro bono programs. "2019 marks the first year our students will complete more than 12,000 pro bono hours by the end of this academic year. Their fantastic achievement underscores the value of public service at the core of UCI Law's mission."
Photo: Alexandra Lewis '20 (center) participating in the pro bono nonprofit assessment clinic.