Back to Top
UCI Law receives Public Law Center Community Partner of the Year Award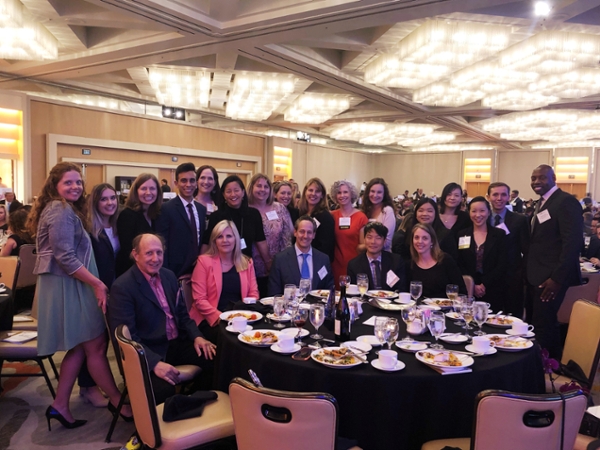 UCI Law received the 2019 Community Partner of the Year Award from Public Law Center at the annual Volunteers for Justice Awards Dinner on Monday, June 3.
"UCI Law is thrilled to receive the Community Partner of the Year Award from PLC," said Dean L. Song Richardson. "We are proud to partner with PLC to provide access to justice to low-income residents of Orange County."
UCI Law has a long history of collaborating with Public Law Center to serve the Orange County community through pro bono and public interest legal work.
"One of my first tasks as associate dean was to reach out the Public Law Center for advice on how to satisfy existing unmet needs for pro bono legal services in the community," said Carrie Hempel, Associate Dean for Clinical Education & Service Learning. "Our on-going partnership has provided countless opportunities for UCI Law students to gain real-world experience while providing vital legal services to those who need it most."
Since 2010, PLC attorneys have supervised 234 first year law students conducting intake interviews as well as 14 law students in externship and field placements.
Additionally, UCI Law students have contributed more than 12,000 hours on more than 30 PLC-related pro bono projects.
Highlighted Projects and Partnerships
Community & Economic Development Clinic
The CED clinic serves as co-counsel with PLC attorney Ugochi Anaebe-Nicholson in representing THRIVE, a non-profit corporation created to serve as a land trust in Santa Ana for the creation of low income housing, community gardens, and market places for local entrepreneurs.
Consumer Law Clinic
When the CLC was established in fall 2018, PLC attorney Leigh Ferrin visited the clinic to discuss local consumer needs, and help determine case priorities. During that first semester, faculty and students also had monthly lunches with PLC's consumer division to discuss current issues in consumer cases. PLC referred an appeal to the clinic concerning unfair practices, and worked closely with the clinic on the briefing. In additional case referrals from PLC, CLC students have unraveled a PACE assessment for senior clients, helped a senior with fraudulent repairs to her car, and assisted a senior client with solar panel issues. The clinic also has worked closely with PLC as co-members of the California Low-Income Consumers Coalition to research and address policy issues.
Criminal Justice Clinic
The CJC has collaborated with PLC in representing several of PLC's immigration clients who have criminal court matters or questions. CJC also has consulted with PLC's immigration lawyers regarding their clients' current and past criminal matters. In return, CJC has referred many of its own clients who are in need of immigration legal services to PLC once CJC has successfully resolved their criminal cases.
Domestic Violence Clinic
The Domestic Violence Clinic has received referrals from PLC for representation in immigration cases based on gender-based violence. The clinic also has collaborated with PLC in forming local and national legal strategies to address domestic violence issues.
Immigrant Rights Clinic
Several years ago, IRC co-counseled several cases with PLC's immigration unit on behalf of LGBT immigrants in removal proceedings.
IRC is currently part of several collaborative projects that PLC's immigration unit also participates in and, though such participation, has partnered with PLC's immigration unit on numerous projects and advocacy initiatives. These projects include the Orange County Rapid Response Network, the OC Removal Defense Warriors and the OC Opportunity Initiative.
Recently, IRC has collaborated with PLC's immigration unit to provide parole application assistance to immigrants detained in Orange County who stand to be transferred outside of the region as a result of the Sheriff's announcement in late March that it will be terminating its contract with ICE to house immigration detainees at two county jails by August 1.