Back to Top
Chair of UCI Law's Board of Visitors and Attorney Richard Bridgford Speaks on the Importance of Litigation to Shape Gun Violence Policy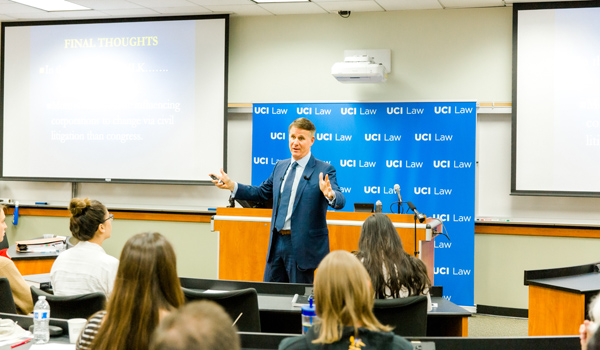 Irvine, Calif., (Sept. 27, 2019) – Richard Bridgford, founder and managing partner of Bridgford, Gleason & Artinian Trial Attorneys in Newport Beach and Chair of UCI Law's Board of Visitors, spoke to a packed room about how litigation can be an effective tool for the adoption of federal laws mandating background checks and a ban on assault weapons. The talk, hosted by the UCI Law Guest Speaker Series and the Civil Justice Research Initiative, was held at UCI Law on Wednesday Sept. 25.
"We are at a time in our history, when we need the greatest lawyers -- lawyers are the enforcers of the rule of law," said Bridgford.
Dean L. Song Richardson welcomed and introduced Bridgford – speaking to his deep commitment to UCI Law as well as public service and social justice. "We are fortunate to have Rich as a great friend and ally to the law school."
In his talk, "Using Litigation to Shape Gun Violence Policy," Bridgford drew upon his experience and his representation of hundreds of victims of the 2017 Las Vegas shooting. "We owe a duty of care to people we haven't met."
In these court cases, he explained, lawyers seek to hold the owner of the premises (for-profit businesses) responsible for not keeping its patrons safe. "The standard of care has changed – there should have been a program in place to keep people safe."
Bridgford gave a brief history of gun control laws in the U.S., driving home the fact that academics and researchers don't have access to the data on guns and assault weapons sales they need in order to challenge the system and create change. He additionally provided statistics on gun-related deaths in the U.S. compared to other nations across the globe. The evening ended with UCI Law Professor Henry Weinstein moderating a Q&A with Bridgford.
To those who feel helpless about change, Bridgford said there is hope.
"We can change our environments and we can change our system through legislation.  However, if for whatever reason congress won't adopt a common sense federal scheme regulating guns and given the current obstacles to suing the manufacturers and dealers of guns, then the most effective way to ensure the public's safety will be thru civil litigation against premises owners in the courts. In short, by holding for profit corporations and premises owners responsible for the safety of their patrons we hope to change the corporate calculus in such a way as to enlist those same corporations in forcing congress to enact sensible federal gun laws. As a matter of self-preservation if nothing else."
Bridgford helped launch, and is a founding donor, of the Civil Justice Research Initiative, a collaboration between UCI Law and UC Berkeley Law For more information about CJRI, click here.