Back to Top
UCI Law unveils Little Free (Law) Library for ABA Law Day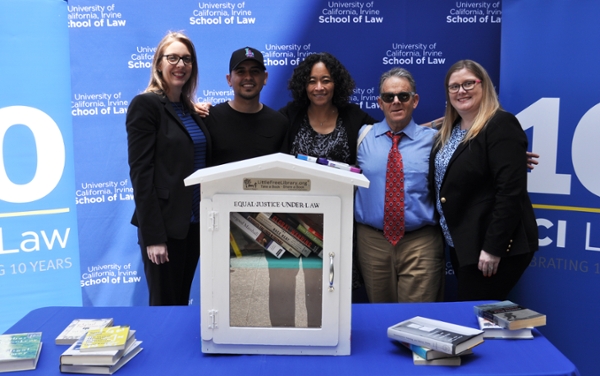 UCI Law unveiled a new Little Free (Law) Library May 1, 2019, in recognition of the American Bar Association's Annual Law Day, a national day set aside to celebrate the rule of law and provide opportunities to understand how law and the legal process protect our liberty, strive to achieve justice, and contribute to the freedoms that all Americans share.
UCI Law faculty, staff and students came together to donate books dedicated to upholding the principles of this year's ABA Law Day theme: Free Speech, Free Press, Free Society. Donated books include "Free Speech on Campus," written by UCI Chancellor Howard Gillman and Berkeley Law Dean Erwin Chemerinsky, and "Speech Police: The Global Struggle to Govern the Internet" by Clinical Professor of Law David Kaye.
The Little Free (Law) Library features one-of-a-kind artwork by Fernando Nunez '19. Inspiration for the hand-painted design came from his experience working with the International Justice Clinic under Professor David Kaye, and his time spent performing pro bono work at the Mississippi Center for Justice.
One side of the library includes text from Article 19 of the International Covenant on Civil and Political Rights, which discusses the right to freedom of expression. Furthering this theme, the library also includes a whiteboard backing, allowing students to exercise their freedom of expression.
The Little Free (Law) Library will reside in the UCI Law student lounge. Now in its 10th year, there are more than 80,000 registered Little Free Libraries across more than 90 countries worldwide.