Back to Top
UCI Law Student Gains Trial Experience through Washington, D.C. Externship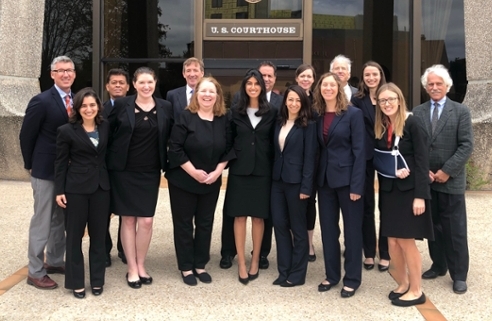 Last fall, Laila Rashid 3L externed at the U.S. Department of Justice, Civil Rights, Special Litigation section in Washington, D.C. Her work quickly took her to San Antonio, Texas, where for two weeks she worked on a class action on behalf of individuals with intellectual and developmental disabilities who are segregated in nursing facilities in Texas.
Rashid drafted pre-trial documents, conducted legal research and fact-finding, assisted with expert witness preparation, and tracked evidence during trial to prepare for cross-examination, rebuttal, and post-trial briefing.
"I really enjoyed assisting with witness preparation, since I was able to meet experts in different fields and learn how attorneys developed questions for direct examination and prepared witnesses for cross examination," Rashid said. "This was the first trial for some of the attorneys on the team, so I was very grateful to be involved."
Rashid was the only law student assigned to the case, and was put on the trial team on her first day.  She worked closely with attorneys from the DOJ throughout the duration of the case - pre-trial, trial and post-trial.
The work solidified her interest in litigation.  
"I expressed early on, during my interview, that I was interested in litigation work, but I never imagined being able to participate in the way I did," Rashid said. "My favorite moment from trial was seeing some of the plaintiffs and their loved ones testify; it was special to meet and hear from the actual people we were advocating for."
Rashid's externship is through the UCDC Law program, a full-semester externship program in Washington that combines a weekly seminar-style course with a full-time field placement at a government agency or nonprofit. Former UCI Law students participating in the UCDC program have externed at the Securities and Exchange Commission, the Department of Education, the Department of the Treasury and the Equal Employment Opportunity Commission, to name a few.   
Following trial, Rashid returned to Washington, D.C. for the remainder of the fall 2018 semester. She worked on additional post-trial assignments, as well as legal research and fact-finding for cases throughout the section.
Rashid said her experience in Washington has prepared her for the next steps in her career.
"I participated in UCDC because I wanted to apply what I learned in law school, receive feedback from attorneys on my work, and expand my professional network," Rashid said. "As a result, I definitely feel more confident, and I couldn't be happier with my decision."